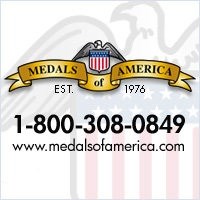 New York, NY (PRWEB) August 20, 2013
Medals of America's products are well known by customers for being high quality and these organizers are no exception. This case is well designed and constructed with durable water resistant material and two levels with movable dividers. It is collapsible in height from twelve inches to two inches for easy storage. There are other unique features that make this organizer particularly user friendly with no wasted space like that found in other travel bags. It also can be customized with multiple options found on the company website. The "builder" system allows the customer to design their own case and even back up if they make a mistake or want to change the design. Customers have found the "builder" system to be easy to use. It is also available for other customizable merchandise that Medals of America offers including backpacks and a variety of clothing.
Medals of America has been the favorite online military shopping location for thirty-seven years. Military personnel and their families have trusted Medals of America's products and the people that run it because of their reputation for great service and guarantees. They are also known to uphold the United States Military through Veteran Affair Campaign support. Because they are Veteran owned and operated they have the ability to understand the military community better than anyone.
About Medals of America
Medals of America is the premier source for Military Dog Tags, Army Medals, Badges, Military Ribbons, Marine Medals, Patches, Rank, Rates and Insignia, as well as Custom Embroidered Clothing. We're also proud to offer our exclusive Rack Builder, Military Medals Builder and Custom Display Case Builder.
Veteran owned and operated for more than 36 years! Our mission is simple - we want every Veteran and Service person to display the Medals our grateful Nation awarded them. Anything we can do to have all the great Americans who served their country in the Military Forces display their award will enrich future generations by these symbols of Duty, Honor and Country.
Medals of America
114 Southchase Boulevard
Fountain Inn, SC 29644
800-308-0849