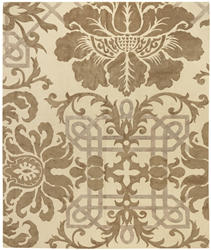 Cyrus Artisan Rugs is pleased to welcome the new batch of luxury rugs from their collaboration with Tufenkian.
Minneapolis, Minnesota (PRWEB) November 12, 2014
As November brings in the holiday season, it is no surprise that product inventories are expanding at a rapid pace, ushering in new selections of products for all of the holiday shoppers. This week, Cyrus Artisan Rugs revealed their new inventory of luxurious, high-quality rugs from James Tufenkian. Tufenkian Rugs are internationally recognized as leading in the industry of handwoven arts. Cyrus Artisan Rugs is pleased to welcome the new batch of luxury rugs from their collaboration with Tufenkian. The majority of the new hand knotted rugs are contemporary and transitional in style, bringing exciting new colors and contemporary aesthetic to the winter design board.
One of the standout Tufenkian rugs from Cyrus' new November batch of arrivals includes the "Brilliance" contemporary rug design. The "Brilliance" rug in the Tungsten palette arrives with a new color combination that is both earthy and sophisticated, pairing golds, warm browns, and slashes of violet to create an entirely unique piece. This new contemporary rug has a chic abstract pattern and is hand knotted in Nepal using the finest high mountain wool and lustrous silk. Another highlight from the selection of new arrivals is the Tufenkian "Brocade" design, which has been unveiled in a new color scheme. The color "Medici" is the newest addition to the existing Brocade color options, which also features five other luxurious color choices. The Medici color palette is perfect for the winter season of celebration, featuring golden hues while the bamboo silk creates a gorgeous sheen and brings out the classic and floral motifs. This addition to the existing Brocade design of hand knotted contemporary rugs was expertly crafted in Nepal with meticulous care, using high mountain wool and bamboo silk to create soft and thick pile finish that gives off a luxurious blanket feel.
Each of these handmade and rare rugs are featured on both Cyrus' online store and in their large Minneapolis showroom. Cyrus Artisan Rugs' showroom is over 13,500 square-feet with an inventory of over 3,000 handmade artisan rugs. Design lovers, industry insiders, and residents of the greater Minneapolis area should check out these truly one-of-a-kind carpets to get inspired for their own holiday decorating plans.
Cyrus Artisan Rugs
5115 American Blvd.
W. Bloomington, MN 55437
Phone: (952) 922-6000
-Contributed by TRIXMEDIA : Creating Possibilities
Branding Firm based in Beverly Hills, California.