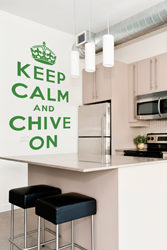 We are excited to be working with theChive and look forward to providing its community with another way to express their support
Chicago, IL (PRWEB) April 14, 2015
The popular online retailer and manufacturer of DIY wall decals and wall tattoos announced today that it has finalized a licensing agreement with theChive to become the exclusive manufacturer of its popular KCCO trademarked designs.
"We are excited to be working with theChive and look forward to providing its community with another way to express their support," said Jordan Guide, founder and CEO of WALLTAT.
TheChive is a photo-entertainment website that currently ranks in the top 1000 websites in world according to Alexa. It also runs a charity organization called Chive Charities, which raises awareness and funds for specific individuals in need of assistance.
"We've been working very hard to selectively grow our merchandise offerings so that we can provide the products that our community really wants. We found that the premium quality of the designs that WALLTAT is delivering is in line with our expectations to deliver an outstanding product to Chivers around the world, and we're very excited about how great these look on the wall," said Joe Rozsa, Vice-President of e-Commerce at theChive.
To start, WALLTAT will manufacture the iconic "KCCO" acronym design as well as its spelled out counterpart "Keep Calm and Chive On." Both designs will be offered in the signature Chive Green color as well as matte Black and White.
"We wouldn't put our name on any product that any of us in the office wouldn't want to buy ourselves, and I can personally vouch for that as I have one of these hanging as decor on the wall in my own office," added Rozsa.
The "KCCO" design will be offered in five sizes. The entry-level "KCCO" design retails at $69 and measures 45 inches wide by 12.35 inches high. The largest design spans 160 inches in width, is 45 inches tall and retails for $249. The "Keep Calm and Chive On" design with be offered in four sizes ranging from 45 to 120 inches tall at the same price points.
"These designs are huge! WALLTAT makes life-sized wall decals, and Chivers will now be able to show their love of theChive like never before," said Guide.
Both designs are now available for purchase on WALLTAT.com and will soon be offered on theChive's online storefront, thechivery.com.
"KCCO" and "Keep Calm and Chive On" are the registered trademarks of Resignation Holdings, LLC.
WALLTAT is an online retailer of custom made-to-order alternative wall art decals for interior use. It was founded in 2008 by Chicago based Interior Designer Jordan Guide. WALLTAT wall decals are made of high-quality, ASTM E 84-07 "Class A" fire rated matte finish vinyl and can be applied to almost any smooth surface including drywall, glass, laminate, porcelain and metal. They work great on curved walls, columns, accenting mirrors, ceilings and furniture. For more information visit their website.