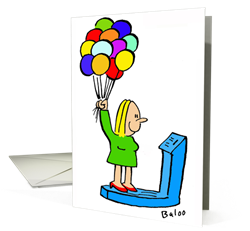 Encouragement and a support network could be the difference maker in keeping resolution goals, sending greeting cards can be the perfect nudge.
San Francisco, CA (PRWEB) January 23, 2014
Greeting Card Universe, the world's largest greeting card store, announces its collection of hundreds of hard to find and original Encouragement and Congratulations cards to send to friends and family members who have made resolutions for 2014 to improve themselves.
"According to USA.gov and StatisticBrain.com, some of the top New Year's Resolutions are losing weight, quitting smoking, seeking a better education, saving money and drinking less," says Mindy Rosso-Gaemi, Community Manager at Greeting Card Universe. "In general, almost half of all Americans make resolutions hoping to become fitter, healthier, and have a better life. Staying on course and giving up old habits isn't easy. Encouragement and a support network could be the difference maker according to NPR.org."
Overeating, smoking, drinking, and other unhealthy activities are addictive. Altering or overcoming bad habits that feel good is much harder without the inspiration and acknowledgement of trusted individuals.
"When you know someone who's made a resolution that will improve their lives, you can be a cheerleader and even a co-resolver to help them achieve their goal," says Rosso-Gaemi. "Keep in touch with them any way you can. Sending cards can be the perfect nudge and make them feel accountable. Greeting Card Universe offers Encouragement - Stop Smoking cards, Encouragement - Losing Weight cards, Encouragement School/Education or Work/Career cards. Choose your design, order on-line, and we'll do the rest. Once shoppers discover the variety of cards we offer, they'll never shop anywhere else."
Greeting Card Universe also offers a collection of 12 Step Addiction Recovery Encouragement cards, as well as Congratulations cards for celebrating recovery and sobriety milestone achievements like clean and sober anniversaries and birthdays.
Additionally, custom greeting cards can be created within 48 hours at no additional cost by requesting changes or a totally new design from a community of more than 6,400 freelance artists from around the world. Shoppers can also personalize the inside of all cards at Greeting Card Universe with their own text and photo. An added convenience for last minute shoppers, cards can be ordered online and picked up— usually within one hour—from most Target stores across the country.
Greeting Card Universe's traditional and niche offerings of over 616,000 cards gives nod to the importance of choice and personalization in today's marketplace and stays true to its tagline "any card imaginable."
Explore more uncommon holidays and occasions on the Greeting Card Universe blog. Mindy Rosso-Gaemi is available for guest blogs, radio and TV interviews on this topic and other uncommon occasions and holidays.
About Greeting Card Universe
Greeting Card Universe (http://www.greetingcarduniverse.com) is a division of BigDates Solutions, a private company that provides consumers with unique, personalized services for any holiday or occasion. Greeting Card Universe is the world's largest paper greeting card store, offering an unlimited selection of custom greeting cards, birthday greeting cards, photo cards, invitations, and note cards. BigDates Solutions is the creator and operator of Birthday Calendar Classic for Facebook and iPhone.