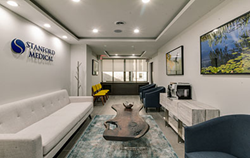 OBGYN specialist Dr. Pedram Bral is the Director of Minimally Invasive & Robotic Gynecologic Surgery, a division at Maimonides Medical Center in New York City.
(PRWEB) June 13, 2017
Pregnancy is an exciting yet challenging time when women need the expert care of an experienced gynecologist. Dr. Pedram Bral is recognized as being one of the best OBGYN specialists in the region and is renowned for providing excellent and technologically advanced care for his patients, especially during pregnancy. This is particularly true for women at risk of a preterm birth and who will benefit from a newer and clinically validated predictive blood test now provided at his practice.
This particular blood test, the Sera PreTRM® test is the only clinically validated blood test and is the first such test to be commercially available. Clinical validation data published in the American Journal of Obstetrics & Gynecology has proven the value of this blood test as a predictive and objective tool for helping to identify women at risk of a preterm birth.
To evaluate the efficacy of this test, researchers assessed clinical data from 5,501 patients. The study was found to validate a signature based on the presence of two proteins that are considered highly predictive of preterm birth risk. The proteins are IBP4, an insulin-like growth factor binding protein and SHBG, a sex-hormone binding globulin. The presence of these proteins was found to be statistically significant in predicting preterm birth before the 37th week of pregnancy, while predictions for birth occurring before the 36th and 35th week of pregnancy were even higher. The test was shown to be statistically accurate in predicating this risk as early as the nineteenth week of pregnancy.
"The development of this test is extremely important especially as this is an excellent study that proves its worth" said Dr. Pedram Bral. "Before the introduction of the PreTRM test, gynecologists had to rely on more traditional and often far less accurate indicators. These included short cervical length and a woman's history of preterm birth. In the absence of these indicators, a woman would often be in premature labor before their condition became known."
The publication of the data from this study shows that the test can help to identify many women who are at increased risk of a preterm birth, well before symptoms develop. Being aware of these risks allows physicians to take appropriate action and to be truly proactive in managing these pregnancies. Additionally, this type of testing may help to understand the causes of premature birth. Expanding this knowledge could help to discover ways of avoiding or reducing the risks of premature births in the future.
"Figures from the Centers for Disease Control show premature birth as being the leading cause of death for newborn babies, not just in the United States but worldwide" said Dr. Bral. "The problem with these preterm deaths is that often the mothers have no known risk factors and approximately one in nine babies will be born too soon."
Premature birth is classified as birth before 37 weeks and even infants who survive may go on to have long-term medical problems that include cerebral palsy, learning disabilities and intellectual problems, vision and hearing loss, seizures and chronic respiratory illness. The psychological and emotional cost to children and families affected is obviously huge. The monetary costs of treating complications caused by premature birth is considerable. In 2005, these costs were in excess of $26 billion while now these costs are estimated to be much higher.
"Being able to provide women with the PreTRM test is a truly valuable resource" said Dr. Bral. "By identifying those women more at risk in a relatively early stage of pregnancy, we can work out the most suitable treatments to manage this risk, hopefully reducing the chance their child will be born preterm so they can look forward to a happier outcome."
About Dr. Pedram Bral
Dr. Pedram Bral is renowned for being amongst the best gynecological surgeons in NYC and is one of the few in the country able to perform robotic gynecological surgery. He is active in research and has been extensively published. Dr. Bral is Assistant Professor at New York College of Osteopathic Medicine and is a member of the American College of Obstetrics and Gynecology. Dr. Bral is dedicated to providing patients with the very highest standard of clinical care.
We offer a comprehensive Obstetrics & Gynecology care in NYC for women of all ages. At our ob gyn nyc clinic of we provide a full range of gynecologic services, from annual check-ups and routine pap smears to treatment of Abnormal Uterine Bleeding and gyn procedures, surgeries performed in our office or in the hospital. Our state of the art gynecology NYC facility equipped with a latest obgyn equipment. Dr. Bral MD is a leading ob gyn doctor, 2016 America's Top Gynecologist and among the top gynecologists NYC.
Manhattan Women's Health & Wellness
Dr. Pedram Bral, Gynecologist
51 East 25th Street, Ste 403
New York, NY 10010
(Between Madison Ave & Park Ave)
☎ (212) 533-4575