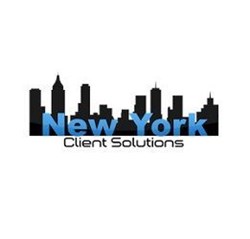 At New York Client Solutions we offer the same cost saving benefits other nations do but without the language barriers and time-differences to deal with.
New York City, New York (PRWEB) August 20, 2013
US based firm, New York Client Solutions understand the local market and intend on intercepting this business to not only offer customized solutions but to help boost the local economy. Managing Director of New York Client Solutions Colin Moore explains "Our focus is to work with these locally based businesses so that jobs are not lost to offshore outsourced firms. In order to strengthen the US economy, it is important that local services are employed first and foremost which is why we do all of our business in America with market leading American suppliers, traders and contractors"
More Info: http://www.newyorkclientsolutions.com/services/
American businesses are becoming increasingly aware of the benefits of outsourcing, however, in many cases are not aware that domestic outsourcing can be less expensive and often more valuable to their long term goals than offshore outsourcing. "Outsourcing is a very cost effective result driven industry so it is not surprising that more businesses are choosing to increase the amount of business processes and services they outsource. What we are trying to encourage is the outsourcing to local companies, rather than abroad. At New York Client Solutions, we offer the same cost saving benefits other nations do but without the language barriers and time-differences to deal with," states Colin Moore.
The "State of Outsourcing Industry 2013" survey found that 70% of the core focus when outsourcing included accessing better talent. With expectations, focuses and demands of outsourcing becoming more complex it is vital that the employed companies understand the business' core values, objectives and the local business environment in order to achieve success. Outsourced sales and marketing firm New York Client Solutions believe this is where local outsourced companies have an advantage over offshore outsourced companies and plan to utilize their expertise. Managing Director Colin Moore claims "Domestic outsourcing means companies are getting highly skilled workers that are familiar with the local market and are able to easily adapt to your business, enabling them to drive growth whereas going offshore means you run the risk of poor communication, decreased quality control, hidden costs and lack of local knowledge."
With half of US businesses planning to increase outsourcing, New York Client Solutions expects to see a high proportion allocated to local companies to help lower national unemployment levels and improve the US economy.