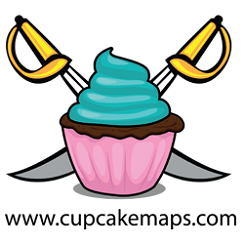 CupcakeMaps makes it easy to New York cupcakes on their desktop website and free iPhone and Android mobile apps.
New York, New York (PRWEB) April 17, 2014
Shopping in New York for local cupcakes is a lot easier than one may think. There are plenty of New York cupcakes bakery shops in the NY area to provide the sweetest and tastiest cupcakes. Some shops are pillars in the desserts industry and some are Cupcake Wars Winners! CupcakeMaps is America's most extensive and first-of-its-kind cupcake bakery search, deals platform, and cupcake reviews system, The company has announced some New York bakery additions to a delicious directory of over 15,000 cupcake and cake businesses.
Notable bakeries in the CupcakeMaps' delicious New York cupcakes n cakes shops include Sprinkles Cupcakes, Crumbs Bake Shop, New York Cupcakes, 321 Cake, H Bake Shop, Brooklyn Cupcake, and A&E Pastry in New York. These New York cupcake shops are loved by all who visit these locations, Cupcake Monster Approved, and feature some of the finest and tastiest desserts in the country.
Sprinkles Cupcakes, New York: With the overwhelming popularity of Sprinkles located in California, cupcake lovers are delighted to know that there's another branch on the East Coast as well! There is a wide variety of cupcake selections to choose from, and the moist, rich flavor is simply to die for. New flavors are always being cycled through each day, and the extra-special flavors are available during the holiday seasons. Some favorites include, bu certainly not limited to, vanilla vanilla, chocolate chocolate, coconut, and of course, red velvet!
Crumbs: Open since 2003, this cupcake bakery knows how to keep their customers happy. They have an irresistible blend of the classic flavors and new tastes that have not yet been explored by the average customer. With over fifty different kinds of cupcakes being made each day, it's always a challenge picking just one! Crumbs also provide gluten-free cupcakes, so everyone can enjoy a cupcake!
New York Cupcakes: Although this cupcake bakery had just been open since 2008, the dream of making delicious cupcakes started when the owner was still a child. She went through many experiments and trial-and-error sessions to get the right balance of flavor and attraction, and there hasn't been an unsatisfied customer yet. Their butter-cream frosting is made fresh every day, perfect for the sixty delicious flavors of cupcakes to choose from.
321 Cake: 321 Cake is designed with every sweet tooth in mind and aims to provide satisfaction. They're not just bakers: they're cupcake artisans! They use the freshest products to make the best tasting cupcakes that will simply make your mouth and stomach happy.
H Bake Shop, a New York Cupcake Wars Winner designs and creates their cupcakes from scratch, leaving cupcake lovers with a sense that each cupcake delight was made fresh and on site. Ingredients are organic and fair trade, so this place is one of the best values and desserts specialists. With how good these cupcakes taste, certainly they're a conversation starter, once the cupcake has been eaten. This would be the expectation from a Cupcake Wars winner!
Brooklyn Cupcake A Cupcake Wars Winner - Special orders aren't beyond Brooklyn Cupcake's abilities. You can receive customized orders within 48 hours; useful when you need a quick treat for an upcoming meeting at work or gathering with friends. By using the finest ingredients, these cupcakes will taste like a small piece of heaven. There are even traditional Puerto Rican and Italian-inspired cupcake flavors, which are hard to find anywhere else.
New York bakery shops on CupcakeMaps benefit from a business standpoint. New York cupcakes shops can effectively market their desserts shops to consumers by submitting or claiming their business on the website and having their contact information, phone numbers, websites, and directions to the business at sweets lovers' immediate disposal. Additionally, bakery businesses can connect their Facebook and Twitter accounts. All reviews and customer check-ins are prominently displayed on each businesses directory page. Each business gets an automatic dedicated reviews page. More importantly, New York bakeries can add check-in offers and get cupcake marketing on the free mobile iPhone and Android apps. Shops owners can develop their very own mobile web apps that significantly drive business. Owners also promote with the 'Review Us on CupcakeMaps.com' sticker. When a shops gets 50 4+ reviews - they receive a 'People Love Our Sweets on CupcakeMaps.com' sticker, and they can get reviewed by our staff and get a 'Cupcake Monster Approved' sticker! With the announcing of these well-known, wildly popular, and seriously delicious New York NY cupcake bakeries to the CupcakeMaps family, the company is only further solidifying its status as a true leader of the cupcakes n cakes industry. Directory updates will be released monthly and will feature some of the most highly reviewed bakery shops in the United States.