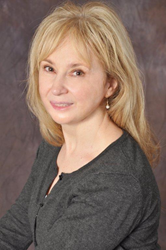 Michele is a respected colleague with a unique talent and ability to create a refreshed, natural look for patients with facial rejuvenation, and we are excited to introduce her to our practice, says Dr. Khosh
New York, New York (PRWEB) February 01, 2017
Dr. Maurice Khosh is a leading New York Facial Plastic Surgeon delivering unsurpassed surgical skill with elegant artistry in the specialties of cosmetic and reconstructive surgery of the face, along with treatment of ear, nose, and throat conditions. With a commitment to personal care and outstanding results, Dr. Khosh values a supportive and harmonious atmosphere where patients feel at ease with the services they are receiving.
Michele Rivard, PA-C, is the newest addition to Dr. Khosh's leading Manhattan practice. With the distinctive ability to help patients achieve a natural look using neurotoxins and dermal fillers, Ms. Rivard's collaboration with our practice continues to enhance each patient's experience while helping them rediscover their natural beauty. Her knowledge of facial rejuvenation techniques and her commitment to unmatched patient care is a vital component to the continued success of our practice.
"Michele is a respected colleague with a unique talent and ability to create a refreshed, natural look for patients with facial rejuvenation, and we are excited to introduce her to our practice," says Dr. Khosh.
More About Dr. Maurice M. Khosh:
As a highly esteemed dual board certified facial plastic surgeon practicing in Manhattan, NY, Dr. Maurice M. Khosh is a founding member of the New York Head & Neck Institute and the former Director of Facial Plastic Surgery at Columbia University. With continued appearances on Castle Connolly's Top Doctors List (2013-2016), Dr. Khosh has also been awarded the Patient's Choice Award, which solidifies his dedication to providing the highest level of patient care in his field. Offering a full menu of cosmetic and reconstructive surgical and non-surgical procedures, including facial rejuvenation, Dr. Khosh's intricate experience spanning 20+ years is why he is recognized as one of the top cosmetic and reconstructive surgeons in the country. For more information about the many services offered by Dr. Khosh, visit his website at Facedoctornyc.com or contact his Manhattan office directly at (212) 339-9988.
Prepared by Find Local Company