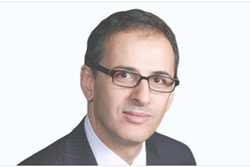 We are excited to offer Volbella and give our Manhattan patients the opportunity to regain full, sensual and youthful lips using the latest injectable filler available, says Dr. Khosh
New York, NY (PRWEB) October 25, 2016
Dr. Maurice Khosh is a leading facial plastic surgeon in New York who now offers Juvederm Volbella injections as the latest product for non-surgical lip augmentation and lip enhancement. Like other Juvederm fillers, Volbella utilizes the breakthrough Vycross™ technology, which allows the lips to be enhanced while remaining soft and natural looking.
Dr. Khosh offers Juvederm Volbella as a proven treatment for patients who have wrinkles or fine lines around the mouth, poorly defined lip borders (lipstick bleed lines) and loss of lip fullness. A single injectable treatment with Volbella can plump and augment the lips with longer lasting results than most fillers on the market. Many patients can expect to retain their Volbella treatment results for up to one year.
Juvederm Volbella contains a smooth injectable gel that is formulated with hyaluronic acids, which can restore volume and fullness to the injected lip area. It also includes a special anesthetic to protect patient comfort during treatment. Volbella is set apart by its ability to provide more natural results with greater longevity than current lip fillers.
"We are excited to offer Volbella and give our Manhattan patients the opportunity to regain full, sensual and youthful lips using the latest injectable filler available," says Dr. Khosh.
More About Dr. Maurice M. Khosh:
Dr. Maurice Khosh is a nationally recognized dual board certified facial plastic surgeon practicing in Manhattan, NY. Beyond his continued appearance on the Castle Connolly's Top Doctor™ list, he is the recipient of the Patients' Choice Award. Dr. Khosh is the past president of the NY Facial Plastic Surgery Society, the director of facial plastic surgery service at Mt. Sinai West in NYC, and was the former Director of Facial Plastic Surgery at Columbia University. Dr. Khosh's dedication to the highest level of patient care and intricate expertise in his field has gained him renowned respect as one of the top plastic and reconstructive surgeons in the country. Dr. Khosh offers a full menu of services in cosmetic and reconstructive surgery as well as non-surgical facial rejuvenation. For more information on Juvederm Volbella offered by Dr. Khosh, visit his website at Facedoctornyc.com or contact his office in Manhattan directly at (212) 339-9988.
Prepared by Find Local Company