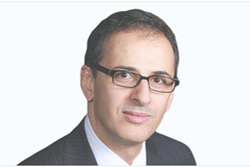 I am thrilled to offer such a valued alternative to surgical nasal valve repair. Now, patients can improve their breathing and quality of life with a minimally-invasive implant using Latera, says Dr. Khosh
New York, NY (PRWEB) December 01, 2016
Dr. Khosh offers Latera as a new, minimally-invasive, treatment option that can provide support for weak nasal cartilages, thus reducing nasal obstruction and symptoms such as congestion and stuffiness. The non-permanent implant, which is absorbed over a period of 18 months, can improve an individual's ability to breathe through the nose, at rest, during exercise, and while sleeping. Nasal obstruction significantly affects one's quality of life. Latera is a promising solution for those who suffer from nasal valve collapse by restoring the strength of the nasal sidewall.
Traditional means of nasal valve repair involved cartilage grafting with a full surgical approach. Yet, Latera represents a breakthrough therapy for nasal valve disorders, without external incisions, scarring, or the need for donor cartilage. While the inside of the nose is numbed using a local anesthetic, the implant is positioned inside the nasal wall, providing stability to the cartilage. The placement of Latera requires only a few minutes, and typically, there is no pain or bleeding.
"I am thrilled to offer such a valued alternative to surgical nasal valve repair. Now, patients can improve their breathing and quality of life with a minimally-invasive implant using Latera," says Dr. Khosh.
More About Dr. Maurice M. Khosh
Dr. Maurice Khosh is a highly recognized dual board certified facial plastic surgeon practicing in Manhattan, NY. Beyond his continued appearance on the Castle Connolly's Top Doctor list from 2013 through 2016, he has also been given the Patients' Choice Award, is a founding member of the New York Head & Neck Institute and was the former Director of Facial Plastic Surgery at Columbia University. Dr. Khosh's dedication to the highest level of patient care and intricate expertise in his field has gained him renowned respect as one of the top plastic and reconstructive surgeons in the country. For more information on the services offered by Dr. Khosh, visit his website at Facedoctornyc.com or contact his office in Manhattan at (212) 339-9988.
Prepared by Find Local Company