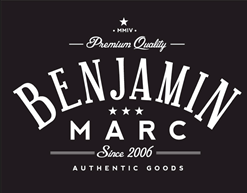 New York Logo Design Company, Benjamin Marc Inc. Introduces Vintage Apparel For Promotional Printing.
New York, New York (PRWEB) October 17, 2013
Benjamin Marc, the premier provider of web design, SEO, graphic design and printing services to the Long Island community, is pleased to announce the addition of vintage clothing to their selection of promotional apparel products.
Among the apparel brands that will be offered will include product lines from the top vintage brands in the US & Europe. As a reseller of all these brands, Benjamin Marc can provide their clients with the most up-to-date and sought-after designs that can be branded to represent each company's individuality.
Benjamin Marc has made the move to offer the items from these popular brands to offer their clients alternatives from the standard items such as golf shirts, button-down shirts, t-shirts and other more common items. With the belief that offering their clients a wide variety of styles and designers, their clients can set themselves apart from their competitors and create a new dynamic for their business.
Vintage clothing, clothing that is based on designs from previous eras with one of the most popular eras being the 20's, has reached into every strata of society and is becoming more and more popular for everything from every day wear to special occasions such as weddings and proms. In fact, as popular musical acts perform in more classic style clothing, the movement towards vintage apparel is growing. By making the decision to offer these new styles, Benjamin Marc has placed itself on the leading edge of promotional apparel production.
New York Logo & Graphic Designers, Benjamin Marc is a full-service website design and marketing Development Company that caterers to businesses located in Suffolk County & Nassau County, New York. Specializing in the design, development, and maintenance of websites, our talented, creative, and detailed-oriented staff of designers can take any idea and transform it into a fully functioning website. With expertise in revitalizing existing websites making them look fresh and unique, we can provide our clients with new opportunities to generate new business.
A full-service company, Benjamin Marc encompasses a wide array of additional services including logo design, mobile website design, content creation and any other design requests our client may have. Additionally, we offer printing services for a wide variety of purposes, screen printing for promotional apparel as well as promotional products for any variety of uses. To round out the marketing services offered to our client, we also provide direct mail marketing and video marketing services. Benjamin Marc can be reached online through their website at http://www.benjaminmarc.net or by phone at 631.334.4359.