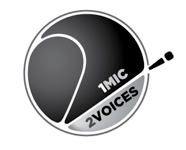 The best of both worlds is now available to those seeking professional quality voice talents
New York, NY (PRWEB) August 06, 2013
Professional voice-over actors Angela and Pete Cataldo break new ground with the launch of their official website, 1Mic2Voices.com. The online resource will feature the diverse range and unique skill sets of this vibrant husband and wife duo who are available for individual projects and creative joint male-and-female voiced teamwork. 
"The best of both worlds is now available to those seeking professional quality voice talents," Angela Cataldo said. "Not only can we both individually work close with clients, studios and directors, we are also fully-equipped as a packaged deal. 1Mic2Voices is truly a one-stop-shop for future clients." 
The Cataldos bring a combined 16 years of experience behind the microphone from their days spent in the television news industry. Both Angela and Pete are more than capable of handling and any assignments and projects within the field of voice-over: from Commercials to Narration, Telephony, Imaging and more.  
Angela's voice delivered the daily news to millions of viewers each evening. From forest fires and murders, to charity events and flying with the U.S. Air Force Thunderbirds, the variety of stories allowed her to develop and cultivate her voice on a professional level.
Pete called the plays, literally, as a television sports anchor and radio play-by-play announcer. Whether it was giving a score or doing play-by-play, this former sports anchor's charismatic voice let millions of sports fans know what their teams were doing and how well they did it. 
"We are so excited to share our talent with the voice-over community and potential clients," Pete Cataldo said. "Being behind the mic is such a passion for both me and my wife, so it is absolutely rewarding to be able to provide the type of innovative service that we do through 1Mic2Voices with this official launch."
ABOUT ANGELA & PETE CATALDO
1Mic2Voices features the dynamic voices of Pete and Angela Cataldo, a husband and wife voice-over artist team who together bring a total of 16 years combined experience to the industry. Whether working separately or together on a joint project, this pair's creative sound brings a unique and refreshing vibe to every project. 1Mic2Voices has a state-of-the-art Home Studio for all recording and editing needs.