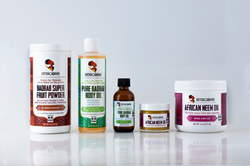 Our vibrant repackaging and new logo ties our superior African wellness products to our unique Fair Partnership Mission!
Olympia, WA (PRWEB) April 09, 2014
As one of the first companies to introduce Baobab Superfruit Powder and Baobab Oil to the United States natural marketplace, Atacora Essential (http://www.atacora.com) unveiled today the new logo and packaging for the Atacora brand of Baobab Superfruit Powder, Pure Baobab Body Oil and African Neem Oil. The company also launched its redesigned website which incorporates its vibrant new branding and reinforces its Fair Partnershipᵀᴹ mission.
"We are thrilled to present our new logo and packaging," said David Goldman, Founder and President of Atacora Essential. "Our new logo represents the powerful working women of the Atacora Fair Partnership Women's Coop, and honors them as they provide their families with better access to healthcare and better nutrition. Our new packaging celebrates not only our high quality and sustainably grown baobab and neem, but also how and why we make our quality products in Fair Partnership."
The redesigned website offers the sale of products to online consumers through an online 'African Market Place', to retailers who wish to open wholesale accounts, and to companies that wish to buy baobab powder, baobab oil, neem oil and virgin red palm oil in bulk.
"We see our website as the virtual hub for anyone wishing to communicate with us," said Goldman. "We feature bios on some of the women in the Atacora Fair Partnership Coop. We blog frequently about what's happening in Benin so that those in the U.S. who are interested in what we do can follow our adventures – and I'm being serious when I say adventures."
Atacora currently sells its sustainably harvested Baobab Superfruit Powder, Pure Baobab Body Oil and African Neem Oil through natural product stores and online. All of these products are made in Fair Partnership with the women and men of Benin.
"At Atacora we go beyond Fair Trade by promoting people's ownership of their futures based on revalued resources and by nurturing women as the principal economic actors," said Goldman. "The whole reason we are in business is to help advance economically the men and women in the Atacora region of Benin."
To find out more about Atacora, visit the new website at http://www.atacora.com, or contact Managing Director Melissa Manzanares at 206-707-3634.