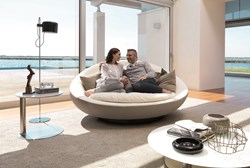 Contemporary design meets comfort with the introduction of furniture designer Jai Jalan's newest creation, the Lacoon Island, which debuted at the Salone Del Mobile in Milan earlier this year.
Miami, FL (PRWEB) August 31, 2013
Comfort and captivating contemporary design meet with the introduction of furniture designer Jai Jalan's newest creation, the Lacoon Island, which debuted at the Salone Del Mobile in Milan earlier this year. The Italian-designed chaise lounge is large enough to easily fit two people and is perfect for large spaces and hospitality projects. Anima Domus is thrilled to add the Lacoon Island to our expansive collection of contemporary Italian furnishings, and is happy to announce the product is exclusive with us in the South Florida market.
Jai Jalan has won four Young&Design International Awards since 2006, including one in 2009 for the design of the Lacoon, and continues to be a forerunner in the field of contemporary furniture design. The Lacoon Island can be enjoyed by itself as a stand-alone lounge, or paired with the remainder of the Lacoon Collection, which comprises a smaller, complementing armchair that is still big enough for two to cuddle and features a swiveling coffee table that rises organically from the bottom of the sofa and flows along the arc of the chair. To complete the collection, Jalan's stylish Lacoon Sofa sports fluid curves to perfectly complement the armchair and island lounge.
Built on a light steel structure, the Lacoon Collection produced by Desiree is available in several fabric and leather options that can be removed for easy washing. To make the new Lacoon Island truly unique, choose from a swiveling or fixed matte black base, or design a distinctive lounge with contrasting fabric and pillow shades.
"We are very excited to introduce the Lacoon Island to the South Florida market," says Marconi Naziazeni, owner of Anima Domus. "This product goes hand in hand with the commitment Anima Domus has toward quality and impeccable design, and we find Desiree and Gruppo Euromobil to be great partners who pay the same attention to those values as we do."
Available in stock or special order only at Anima Domus.
###
About Anima Domus
Anima Domus, South Florida's premiere destination for contemporary Italian home furnishings, was founded in 1998 by Marconi and Silvia Naziazeni and grew from a small family operation into Miami's premiere destination for high-end contemporary Italian home furnishings. With its emphasis on understanding the needs of each one of its clients and catering to those needs, Anima Domus has become a leading resource for interior furnishings in South Florida. Anima Domus extends special consideration for the trade, offering services such as project development, fabric selection, custom wall units and closet development that are geared specifically toward facilitating an easier purchasing process for its trade clients.
About Desiree/Gruppo Euromobil
Founded in 1972, Gruppo Euromobil is a "case history" in the field of furniture for the home and office. tarted from a size and a craft mentality, through the foresight of brothers Antonio, Fiorenzo, Gaspare, and Giancarlo Lucchetta, it has been deeply transformed, growing up to become one of the largest industrial groups in the difficult market of furniture. By changing the concept of furniture and making it a true center of design and consulting services for the home and office, Euromobil has achieved the most balanced quality of furnishings, high standard of service and efficiency. It is in this way that Gruppo Euromobil has started to move with greater amplitude of perspectives and greater capacity for penetration of the contemporary furnishings market.