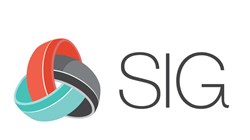 Jacksonville, Fla. (PRWEB) December 23, 2013
SIG, the premier membership organization for sourcing, procurement and outsourcing executives, today announces the launch a new SIG logo and branding.
The new SIG logo incorporates three interlocking rings symbolizing the important facets of SIG membership: insight, content and connections. SIG brings insight and "next practice" innovations to members through its live and virtual events. Best-in-class content is provided through the SIG website, which houses industry news feeds, a by-member for-member Resource Center, an industry blog and relevant articles and white papers. SIG connects members through networking events, town hall teleconferences and its regular peer-to-peer online resource.
"A critical component to all three facets is our members," says SIG President and CEO, Dawn Evans. "It is because of our members that we are able to bring best-practice thought leadership and innovative content. We are really excited about the new logo and the meaning behind it."
"The logo symbolizes the three differentiating strengths we bring to our members," adds Vice President of Marketing, Sarah Holliman. "It is also the impetus for new branding on our website. In a few weeks, we will launch phase II to the website reimagination project, which simplifies navigation and incorporates the new SIG colors. We can't wait to share it with our members."
About SIG
SIG, http://www.sig.org is a membership organization that provides thought leadership and networking opportunities to executives in sourcing, procurement and outsourcing from Fortune 500 and Global 1000 companies. It has served these professionals and opened dialogues with their counterparts in finance, HR, marketing and other business functions throughout its 22-year history. SIG is acknowledged by many as a world leader in providing "next" practices, innovation and networking opportunities through its: global and regional events, online webinars and teleconferences, member peer connection services, content-rich website and online Resource Center, which was developed by and for professionals in sourcing and outsourcing. The organization is unique in that it blends practitioners, service providers and advisory firms in a non-commercial environment.
###