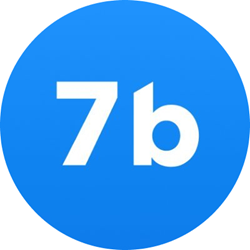 VICTORIA, Seychelles (PRWEB) July 02, 2021
While crypto trading is becoming one of the most profitable ways of investing, it is especially important to find a credible instrument for asset-management such as 7b.
7b is a personal cryptocurrency broker. This is the easiest user-friendly cryptocurrency exchange that is contained in a single application. The app was developed by the team with ten years-long experience in the crypto industry. Using 7b, one can trade with more than 2,000 currency pairs with high liquidity for all of them! This makes users of 7b the owners of the most diverse range of choices.
Who is a broker?
A broker is a kind of support and backbone from whom one get all the necessary information and who helps to perform deals. 7b is a third party, a guide, and assistant in the world of cryptocurrency, trading, and investing in wealth. Simply put, it relieves of the headache of trading and covers the entire range of internal functional activities.
Features
Therefore, how is 7b different from other similar apps? Why users choose 7b over the plethora of offerings? There are 3 main reasons:
Convenience
Unlike some overly complicated exchanges or those that make it hard to find the necessary information, 7b has an absolutely clear and accessible interface, one don't need to memorize schemes of actions and bother so on. The user-friendly environment tells users on an intuitive level " where" to click. Users get only the trading tools they need and the information they need right here right now. And of course, there is the 24/7 professional support from 7b almighty team, which is ready to help with anything.
Transparency
7b has a transparent policy regarding commissions. Users see the amount of commission from their first step in our app.
Security
The safety of customers is the most important aspect of successful performance.
7b is implemented with high-security protocols, all transactions pass automatic security checkouts using multiple methods. All data is double encrypted. All checkouts and data decryption is lightning-fast, so users will never notice delays while using the app.
The 7b app doesn't have access to the private keys.
All withdrawals require email confirmation. Therefore, funds are safe when one trades with 7b.
7b blog
Education is an essential part of successful trading and that is why there is 7b blog, where the latest cryptocurrency market trends are discussed, crypto terminology is explained, and tokens and coins available for trade in 7b are described.
One of the latest articles is dedicated to Digibyte (DGB). In it the core idea of the coin is explained, described why one should trade digibyte and given a brief analytical review. To learn how to trade digibyte in a 7b crypto broker app - one should read the article.
How to use 7b?
To use 7b crypto trading app, one should download 7b to a smartphone. It can be used to view prices on the minimalistic design, buy and sell crypto with ease. The order forms are simple yet complete, with one's choice of crypto and the ability to input amounts.