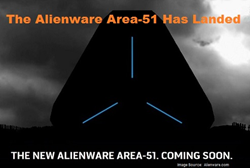 Latest Alienware arrivals include the newly re-designed Area-51 gaming PC and the Alienware 13 gaming notebook with a Graphics Amplifier.
(PRWEB) November 02, 2014
Alienware has the gaming world buzzing with the introduction of not one, but two revolutionary products - the newly re-designed Alienware Area-51 gaming desktop and the new Alienware 13 gaming laptop with a Graphics Amplifier. Both of these new gaming systems are listed on Bizwaremagic.com, a 12-year old site which runs a convenient Laptop Buyer's Guide for its visitors and subscribers.
Alienware's re-designed Area-51 gaming PC has a striking triad shape that makes all interior hardware readily accessible with panels that snap off. Upgrades and modifications can be made with ease. The system can also be easily pivoted, so access to all ports/connections is a breeze.
The starting price for the Area-51 is listed at $1699 and is equipped with an Intel Core i7-5820K processor with 6-cores, 15MB Cache and can be overclocked to 3.8 GHz with turbo boost. It has an AMD Radeon R9 270 graphics card with 2GB of GDDR5 memory with 8GB of dual channel DDR4 (2133MHz) ram and a 2TB 7200RPM SATA 6Gb/s hard drive.
While the starting model is impressive, if one truly desires the ultimate gaming system and money is no object, the fully maxed version of the Area-51 will set the die-hard gamer back about 5 or 6 grand depending on the options. Some of those options include triple AMD Radeon R9 290X graphics with 12GB total (3x 4GB) GDDR5 via Crossfire or dual NVIDIA GeForce GTX Titan Z graphics with 24GB total (2x 12GB) GDDR5 via SLI. There is room for 32GB quad channel DDR4 ram at 2133MHz and 512GB SSD 6Gb/s main plus 4TB 6kRPM SATA 6Gb/s storage. All powered by the 8-core Intel Core i7-5960X processor with 20MB Cache and overclocked to 4.0 GHz with turbo boost. Throw in support for Ultra HD 4K gaming with 11520 x 2160 resolution and this system will be hard to top.
Just as impressive is the new Alienware 13 gaming notebook, which comes with an optional Graphics Amplifier. According to Alienware, this amplifier can transform one's laptop into a desktop gaming rig. Once hooked up, the empowered notebook can take advantage of a single desktop GPU in the amplifier that will cost around $299. Recommended graphics cards include the PNY XLR8 GeForce GTX 760 OC with 2GB GDDR5 memory or the PNY XLR8 GeForce GTX 970 or 980 - both with 4GB of GDDR5 dedicated memory.
This Graphics Amplifier can also be used with any compatible existing GPU so one should check before purchasing an extra card. The amplifier will let the gamer connect external displays and has four USB 3.0 ports, so gamepad, mouse and other peripherals can be connected.
The starting list price for the Alienware 13 is $999 and sports the 4th generation Intel Core i5 4210U processor which is dual-core with 3MB Cache and up to 2.7GHz with turbo boost. It has 8GB of ram but can support up to 16GB; it also comes equipped with the Nvidia GeForce GTX 860M with 2GB GDDR5 and a 500GB Hybrid hard drive. The 13 inch HD (1366 x 768) TN-Panel Anti-Glare 200-nits display can be upgraded to a Full HD (1920 x 1080) IPS-Panel Anti-Glare 350-nits display for $150. Both the Alienware 13 and Area-51 comes with 64-bit Windows 8.1, but each can be upgraded/downgraded to Windows 7.
If one includes the Alpha gaming console, Alienware has introduced three new gaming devices within the last few months. Whether gamers welcome these new gaming gadgets remains to be seen, but Alienware should be given full marks for giving everyone lots of options with the new powerful Area-51 desktop and the revolutionary Alienware 13 gaming notebook.
To find out more about the Area-51 gaming desktop click here: http://www.bizwaremagic.com/alienware_area-51_compiled_review.htm or check out these top rated gaming laptops: http://www.bizwaremagic.com/best_gaming_notebooks.htm. All products/companies mentioned above are registered trademarks of their respective owners and companies.