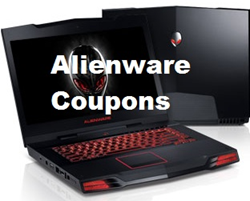 Savvy online shoppers and gamers can get up to $950 off popular Alienware gaming laptops and desktops.
(PRWEB) March 06, 2014
New Dell Alienware gaming notebook and desktop coupons have just been featured on Bizwaremagic.com, a well established site which runs an online Laptop Buyer's Guide for its visitors and subscribers. Potential buyers can get up to $950 off these popular Alienware gaming systems simply by using the discount coupons provided on the 12 year old site.
Newly listed coupons include the following offers: save $300 on the Alienware 17 gaming laptop with 4th Generation Intel core i7, 16GB memory, NVIDIA GeForce GTX 780M 4GB GDDR5 video card and 17.3-inch HD display for $2499; get $100 off the Alienware 18 gaming notebook with Intel Core i7, 8GB memory, Dual NVIDIA GeForce GTX 765M with 2GB GDDR5 video card for $1999 and save $100 on the Alienware 14 gaming laptop with 4th Gen Intel Core i7, 8GB memory, NVIDIA GeForce GT 750M 1GB GDDR5 video card and 14-inch HD display for $1249.
In addition, potential buyers can save $950 on the high-performance Alienware Aurora gaming desktop and monitor bundle - with Intel Core i7, 16GB of memory, NVIDIA GeForce GTX 770 graphics 4GB GDDR5 and the UltraSharp 32 Ultra HD monitor for $4998.99. All offers or discounts come with free shipping, but there may be some restrictions, so see the official Alienware site for complete terms and conditions.
Alienware, which was acquired by Dell in 2006, is often considered the leading brand when it comes to high-performance video gaming systems. While prices have dropped in recent years, many gamers still believe Alienware rigs are overpriced and too expensive. The brand has also faced fierce competition from other computer makers such as ASUS, MSI, Origin, Falcon Northwest and even from HP, which carries the Envy inspired gaming laptops.
As part of its ongoing Laptop Buyer's Guide, the Bizwaremagic.com site provides potential laptop and computer buyers with helpful information and the latest discount coupons from many different computer manufacturers and retailers. Over the years, thousands have bought computer systems while taking advantage of these discount coupons, many of which have been exclusive to the online marketplace. Web pages and content are immediately updated as new coupons and offers are released to the buying public.
This particular updated Alienware Coupons/Discounts Page can be found here: http://www.bizwaremagic.com/alienware_coupons_discounts.htm. Bizwaremagic.com is a handy 12 year old site which features many free guides and resources. Interested parties can also download our comprehensive Laptop Guide here: http://www.laptopcomputerguide.org. All products/companies mentioned above are registered trademarks of their respective owners and companies.