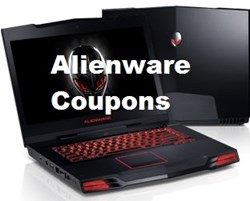 Potential buyers can get 15% off select Alienware gaming systems by simply using these discount coupons.
(PRWEB) October 01, 2013
New Alienware gaming laptop and desktop coupons have just been offered by Dell Alienware where potential buyers can save up to 15% on select gaming systems. Shoppers can also receive an extra $50 off on systems $1499 or above. These discount coupons have been listed on the Bizwaremagic site which runs a handy online Laptop Computer Buyer's Guide.
In addition, several other attractive offers or discount coupons have been featured. Gamers who upgrade the video card on select Alienware desktop purchases will get the "Batman: Arkham Origins" game at no extra cost. Plus, one can also get $50 off both the Alienware 14 and 17 gaming laptops with free shipping.
In most cases, all potential buyers have to do is click the appropriate discount link and/or supply the discount coupon at checkout. It must be mentioned many of these coupons or discounts are limited and can be removed at any time without warning. Please see the official Dell Alienware site for complete terms and conditions.
Bizwaremagic.com, which is an 11 year old online marketing and business site, regularly features discount coupons as a convenience to its Laptop Guide subscribers. Patrons not only receive the computer information they need, but also get the latest offers from major retailers and manufacturers such as HP, Dell, Sony, Toshiba, Alienware and many more. These discounts are updated constantly, and many future laptop buyers bookmark these discount pages in order to save money.
This particular updated Alienware Coupons/Discounts Page can be found here: http://www.bizwaremagic.com/alienware_coupons_discounts.htm or download our laptop guide here: http://www.laptopcomputerguide.org. All products/companies mentioned above are registered trademarks of their respective owners and companies.