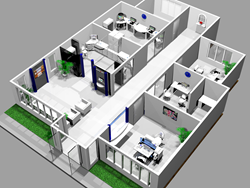 Edge's investment in Xtract Solutions creates the first integrated system for compliant immunotherapy.
COLCHESTER, Vt. (PRWEB) February 18, 2019
Edge Pharmacy Services, a leader in the 503B Outsourcing industry, is excited to announce an investment in Xtract Solutions, an allergy software solution provider based in Beaverton, Oregon. The allergy immunotherapy field is undergoing many changes, particularly in terms of office compounding compliance. New USP 797 regulations will make it challenging to compound within the allergy office space without the proper tools to monitor and track all of the processes, patients, diagnostic testing, and therapeutic injections. Currently no solution exists that solves these challenges for allergy specialists.
Edge is the leading provider of allergy immunotherapy treatment sets in the United States and Canada. Providers, clinics, and hospitals send Edge patient-specific orders for allergy treatment sets, which are compounded in a facility that is both USP 797 compliant, as well as FDA registered and inspected. This service alleviates the need for facilities to compound allergy serums themselves, one of the most difficult and costly parts of the process.
Founded in 2005 by Dr. James Baker, a renowned allergy physician with over 30 years of experience treating patients with allergies, asthma, and immunological disorders, Xtract Solutions software packages help clinics and hospitals track patient diagnostic testing and injections. Xtract systems also contain a compounding module, to aid facilities mixing allergy serums in-house, and EMR integration.
The combination of Edge Pharmacy Services and Xtract Solutions will now provide the only complete solution to allergy immunotherapy on the market. This offering includes modules for diagnostic testing, compounding, patient serum ordering, injection scheduling, and USP 797 compliance. By integrating new software and outsourcing options into allergy treatment facilities, the Edge/Xtract partnership aims to improve patient care and reduce costs to hospital systems and clinics.
Visit the Edge Allergy and Xtract Solutions websites for more information about allergy immunotherapy software and outsourcing solutions.