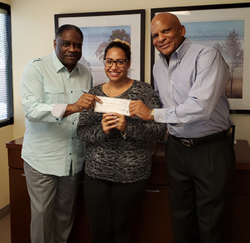 Establishing UPI Loan Fund in Arizona is a good first step.
PHOENIX (PRWEB) October 20, 2020
Drowning in debt, thousands of Arizonians in low-income communities have been turning to aggressive predatory lenders for decades, falling victim to exuberant fees and daily harassment calls. These lenders have forced many into financial ruin due the devil in the details, burying triple-digit interest rates in the fine print. That's why Unified Progress International Loan Fund (UPILF) emerged, offering a safer way to apply for low- or no-interest loans in Arizona.
UPILF is the first African American founded Community Development Loan Fund (CDLF) and evolving Community Development Financial Institution (CDFI) in the state of Arizona. It offers an affordable loan option for unbanked, low/moderate income individuals based on the Jewish Free Loan Association founded in 1904, that helped thousands of Jewish families in the U.S. after World War II.
"Predatory loans target the elderly, those with bad credit, and people struggling financially," said Founder and President/CEO, Frank Crump. "Our 501(c) 3 nonprofit organization has a mandate to ensure people living in marginalized communities have a viable alternative to predatory lenders."
Last month, UPIL distributed its first loan to single mother, Kylie Chamblee, who needed $3,000 to help purchase appliances for her new home. She represents just one of the millions in underserved communities who can't get conventional bank loans.
"As the first person to receive a UPI Loan, I would like to extend my gratitude for providing the opportunity to have access to an affordable loan with a realistic payment plan," said Ms. Chamblee.
Today there are three types of UPI Loans available for qualified individuals,

UPI Spark Loan offers a charitable no-interest rate,
UPI Ignite Loan gives competitive interest rates and;
UPI Fire Loan provides very low-interest rates.
Executive Director, Kerwin Brown has over thirty years' development experience and also served as the CEO of the Black Chamber in Arizona. He and founder, Frank Crump have been busy putting key partnerships and corporate donors in place to strengthen UPILF, including Marisol Credit Union, Local First Arizona, and Vitalyst Health Foundation. Frank Crump also founded UPI Education in 2004, which equips students with life skills solutions.
"We offer all qualified individuals a financial alternative if they are considered "too risky" for traditional bank loans, said Kerwin Brown. "
UPI Loan fund believes that access to capital is important for the financial growth of all people and no one should be left behind because of where they live or the color of their skin. Applicants can apply online safely for personal loans that help with court costs, medical needs, and unforeseen emergencies.
"There are many good people across Arizona, and they deserve full access to the best in all respects, Crump stated. "Establishing the UPI Loan Fund in Arizona is a good first step. "
UPI Loan Fund is an all-inclusive program for qualifying candidates that provides mutual respect between people of different backgrounds. For more information and/or to make a tax-deductible donation in support of the UPI Loan Fund visit upiloanfund.us or email Kerwin Brown.
About UPI Loan Fund
A 501(c) 3 nonprofit organization, UPI Loan Fund is on a mission to support low to moderate income communities in Arizona and provide a helping hand to community members. We look to transform capitalism into humanism and bring a unique approach to providing safer loan alternatives and financial wellness services to underserved communities.