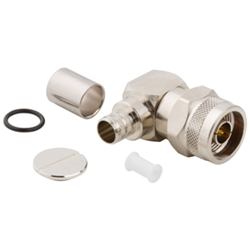 WILMINGTON, Mass. (PRWEB) June 03, 2020
Heilind Electronics, a premier international distributor of electronic components, has expanded its line of harsh environment interconnects with Amphenol Ruggedized Connectors (ARC). Featuring a 50 ohm impedance and DC to 6 GHz frequency, the new connectors are designed and manufactured by Amphenol RF, a leader in coaxial solutions.
The ARC family of connectors offers a reliable threaded interface for outdoor installation, as well single-body construction for consistent electrical performance. This lends to superior durability in extreme conditions like vibration, shock and corrosion. The connectors are also IP67-rated, which renders them dust-tight and completely submersible in water.
Customers can choose from TNC, N-Type and SMA configurations in straight, right-angle, standard and reverse polarity versions.
Because of their robust design and versatility, Amphenol RF's ARC line is ideal for a variety of applications in transportation, mining and construction, smart energy, industrial control and the military.
Visit Heilind's website for more information on Amphenol Ruggedized Connectors (ARC).
About Heilind Electronics
Heilind Electronics, Inc. (http://www.heilind.com) is one of the world's leading distributors of connectors, relays, sensors, switches, thermal management and circuit protection products, terminal blocks, wire and cable, wiring accessories and insulation and identification products. Founded in 1974, Heilind has locations throughout the U.S., Canada, Mexico, Brazil, Germany, Singapore, Hong Kong and China. Follow Heilind on Facebook at facebook.com/Heilind and on Twitter at twitter.com/Heilind.
About Amphenol RF
Amphenol RF is the world's largest manufacturer of coaxial connectors for use in radio frequency, microwave and data transmission system applications. The company's RF and microwave solutions are used in many industries, including automotive, broadband, broadcast, industrial, instrumentation, medical, military and wireless.