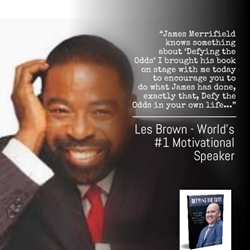 James Merrifield knows something about 'Defying the Odds' I brought his book on stage with me today to encourage you to do what James has done, exactly that, Defy the Odds in your own life... Les Brown -World's #1 Motivational Speaker
COSTA MESA, Calif. (PRWEB) August 09, 2018
Investing in oneself is nothing new for local Entrepreneur James Merrifield. I'm a firm believer in what my mentor, Jim Rohn said, "Invest in your dreams while you're working on your day job." Growing up wasn't easy for James in East LA the ambulance would take the human collateral from the sidewalk and the neighborhood kids would continue to play ball with the chalk line as their homebase until the sun went down and say a prayer as they headed home not knowing what they'd find at their "home."
"I knew I wanted something better for my future kids and family. This was just the way life was growing up in Pico Rivera but something on the inside of me craved for more. Like seeing my dad get arrested on Christmas Day when I was just 10 years old. I guess it got me thinking about my future and the kind of life I wanted to create for myself." In the last decade Merrifield has invested thousands into his own personal development by reading hundreds of books, attending workshops and becoming a real estate investor.
The initial feedback for DEFYING THE ODDS has been very positive:
"James Merrifield is a force of positive energy that has made an immediate impact on our organization." Steven Rosansky, President & CEO of the Newport Beach Chamber of Commerce
"I have known James for over 10 years. He is enthusiastic, a fantastic leader (we nicknamed him "the coach") and an even better friend. James has always been driven and a gifted communicator and always had the utmost respect from his peers. James has always been a devoted family man and has overcome many of life's obstacles in order to provide a better life for his family. I am proud to have worked with James and even more, call him my friend. I don't know a single person who not benefit from reading this inspiring story of James and his drive to succeed."
Glade Campbell, Vice President, Operations (retired) Sprouts Farmers Market
Available in English and Spanish in hardcover, ebook and softcover, James told his Publisher, Michael D. Butler, "I want it translated into Spanish as quickly as possible so I can sell it at my events and on my media interviews."
"James is a great friend of mine and also one my top students. James' story is human potential stimulating, his story will move you and make a shift in your life." Andy Audate, Author, Speaker, Founder of Progression Conferences AndyAudate.com
More than just a memoir DEFYING THE ODDS is a practical guide filled with many actionable "how-to's" and anecdotes, readers will:

Learn the Secrets of HOW to bounce back and Defy the Odds
Defy the Odds in Business and in Life and do it every time!
Learn how to find a mentor and get the most out of the relationship
Learn the steps to starting a business and building a brand
His life in Newport Beach is a far cry from the fear in the streets of East LA where he grew up but he never forgets where he came from and has been giving back to his family and friends in big ways and consistent ways over the years. When asked what he hopes the results of his book getting out to the world will be Merrifield says, "if I can help one troubled kid find a mentor and change their life like Robert Kiyosaki and some of my other mentors have helped me then my pain will have been worth it."
"Defying the odds is a 'feel good' story but it's a 'feel good' story that gives YOU the tools to SUCCEED! James Merrifield
DEFYING THE ODDS is available in print, ebook and hardcover in English and in Spanish.
The Author, James Merrifield is available for media and podcast interviews and for speaking by contacting:
Contact info and Social Media links:
betterthanyouwereyesterday.com
BeyondPublishing.net/AuthorJamesMerrifield
Facebook.com/AuthorJamesMerrifield
Twitter.com/MerrifieldLeo
Instagram.com/TheJamesMerrifield