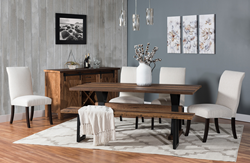 The Barnloft Dining Table Set fills the need for a chic, upscale dining room table ensemble.
SHIPSHEWANA, Ind. (PRWEB) January 28, 2019
In response to the latest trends of featuring industrial visual themes and iconic rural symbols in interior design, Weaver Furniture Sales of Shipshewana, Indiana, announces the New Barnloft Dining Table Set. The set includes the Barnloft Trestle Dining Table and the Barnloft Dining Bench.
The dining table and bench feature a reclaimed barnwood tabletop and barnwood bench seat respectively. Also, both table and bench utilize a black metal base. This set is one of the latest collections from Weaver which represents upscale furniture that has an eclectic, trendy vibe.
Today's Gen Xers and Millennials -- and Boomers to a lesser degree -- are increasingly displaying their preferences for industrial themes in interior designs – such as in chic offices, restaurants and homes. And the Barnloft Dining Table Set answers the need for this type of furniture.
Weaver Furniture offers a number of options so customers can enjoy the Barnloft Trestle Dining Table and Barnloft Dining Bench just the way they like them. For example, furniture buyers can choose a traditional 1-inch hardwood top with a 2-inch built-up edge for both dining table and bench instead of the repurposed barnwood.
The Barnloft Trestle Dining Table comes 42 inches wide. And Weaver offers the table and bench in lengths of 66, 72, 78 and 96 inches. So shoppers can choose the length that best fits their desires and space requirements. Also, in addition to serving as a companion piece to the dining table, the Barnloft Dining Bench makes a great stand-alone piece – such as in a hallway or entryway.
Customers who prefer chairs to benches can select from the hundreds of chair models offered by Weaver Furniture Sales.
The Barnloft Dining Room Set is built by Amish cabinetmakers using traditional woodworking methods, regional hardwoods and other quality materials. This makes furniture from Weaver incredibly sturdy and durable, frequently becoming family heirlooms.
The Barnloft Dining Table Set can be ordered through the company website or customers are encouraged to visit Weaver's 'brick and mortar' store in Shipshewana, Indiana. The large Weaver furniture showroom is located 1/4 mile south and 1/4 mile east of the junction of State Road 5 and US 20 in Shipshewana, Indiana. Weaver Furniture Sales is open daily from 9 a.m. to 5 p.m., and 9 a.m. to 4 p.m. on Saturday. The store is closed Sunday. For more information, visit Weaver Furniture Sales website or call 260-768-7730.
About Weaver Furniture Sales
Weaver Furniture Sales was established in 1989 in Shipshewana, Indiana. An Amish, family-owned furniture business, Weaver offers a full line of solid wood, Amish furniture at affordable prices. Weavers also caters to both residential and commercial customers. The company features Shaker, Mission and Traditional furniture styles. As part of their client services, Weavers provides furniture design consultation services, custom furniture options, furniture quotes, layaway options and various delivery alternatives for residences and businesses in the United States.
LeRoy and Ida Weaver own and operate Weaver Furniture Sales. They began with a 1,500 square foot showroom, which has been expanded to more than 20,000 square feet. Previously, they owned and managed LeWana Dairy Farm, where they milked cows and raised corn and hay.