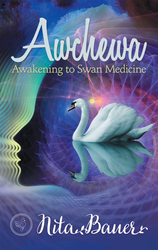 "I pulled four cards from the Animal Medicine deck. They were the swan, badger, hummingbird and fox. The storyline for my book then developed and came alive around these cards as I began to study the nature of these animals." - Author Nita Bauer
SAN ANTONIO (PRWEB) December 10, 2018
Author Nita Bauer was inspired by her interest in metaphysics and Native American history when she decided to publish her first book. Incorporating the name and history of the tribe who came from her hometown and creating a fictional coming-of-age story based on aspects she saw in herself as a young girl, Bauer created "Awchewa: Awakening to Swan Medicine."
"One day, I pulled four cards from the Animal Medicine deck. They were the swan, badger, hummingbird and fox," Bauer said. "The storyline for my book then developed and came alive around these cards as I began to study the nature of these animals, especially after I read a little story about the swan finding the future."
The novel chronicles the journey of a teenager named Katie who gets attacked by a swan at a family picnic. Shortly after, she begins to hear voices in a foreign language, followed by nightmares and flashes of the future that come true. Katie is sent to spend time with her Grandma Ruby in the Texas Hill Country where she learns about her ancestry as a descendant of the Tonkawa Tribe, her family's secret past and ultimately, her higher destiny.
While conducting research for the book, Nita met with the tribe's then president, Don Patterson, who graciously gave her and her husband a tour of their museum and gave her permission to include the Tonkawa tribe in the story. Although John Allen was a historical figure for the tribe, most of the story is pure fiction and does not correspond to the true timelines of John's life or the tribe's traditions.
In "Awchewa: Awakening to Swan Medicine," readers will follow along with Katie's journey as she uses her newfound spiritual gifts to fulfill her true life purpose.
"Awchewa: Awakening to Swan Medicine"
By: Nita Bauer
ISBN: 978-1-5320-4590-5 (sc); 978-1-5320-4592-9 (hc); 978-1-5320-4591-2 (e)
Available at the iUniverse Online Bookstore, Amazon and Barnes and Noble
About the Author
Nita Bauer is a member of the San Antonio Writers' Guild, the Writers' League of Texas, and the Society of Children's Book Writers and Illustrators. Nita has a dual MA in Management and Information Systems Management from Webster University and a BA in Social Work and a BA in Business Management from Wayland Baptist University. She is a retired US Air Force veteran with 20 years of service. She currently works in Information Technology for a Texas law firm. For more information about the author, please visit http://www.nitabauer.com.
For Interview Requests & Review Copies:
LAVIDGE – Phoenix
Lauren Dickerson
480-998-2600 x 601
ldickerson(at)lavidge.com