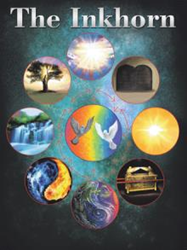 MICHIGAN CITY, Ind. (PRWEB) April 09, 2019
Lewis Allen Buckland explores geometries of Jehovah God and the mystery of Babylon in his new spiritual commentary "The Inkhorn" (published by LifeRich Publishing), aiming to answer age-old questions about biblical history and challenging false teachings in Christian eschatology. The book is available for purchase at: https://www.amazon.com/Inkhorn-Lewis-Allen-Buckland-ebook/dp/B07LFYCYJR.
The book is about geometry of the Aaronic priesthood and ancient pyramids matching their similarities to Jehovah God and the devil in the ancient world, respectively, according to what the Bible says. Buckland looks into a deeper perception of Babylon, explaining it by saying there are only two bodies and two hierarchies in this world. The book also studies the body of Jesus Christ, the renewing of the Holy Ghost, the body of Satan and the cosmic sorceries of the universe. The book also explores spiritual mysteries and Christian eschatology on a more profound level.
"I want them to understand the truth in Jesus Christ and hopefully be converted," Buckland says. "I'm hoping the book sparks a Christian revival and shakes up the Christian community a little bit. The book is moreover a prophetical writing."
"The Inkhorn"
By Lewis Allen Buckland
Softcover | 8.25 x 11 in | 204 pages | ISBN 9781489719874
E-Book | 204 pages | ISBN 9781489719881
Available at Amazon and Barnes & Noble
About the Author
Lewis Allen Buckland writes from his home in Indiana and was raised up as a fundamental Baptist Christian; but nowadays regards himself simply as a non-denominational Christian who follows the word of God both in its simplicity and its advanced complexity. He has also written multiple books on other various subjects in Christianity and plans releasing future titles. "The Christian Church: One Body in Christ & False Christian denominations (Part 1), "The Christian Church: One Body in Christ & False Christian Denominations (Part 2)" and "The Ministry of Uncircumcision."
LifeRich Publishing, the strategic publishing partnership of Reader's Digest and Author Solutions, LLC, was created to provide all writers a platform for sharing their stories, recipes, advice and more. LifeRich authors will benefit from a wealth of editorial design, marketing and education resources, specially created by Reader's Digest editors for the enrichment of these LifeSmart individuals. Books can be published in print, ebook or audio formats, with additional distribution to up to 25 million Reader's Digest customers through its online properties. Follow @LifeRichPub on Twitter or "Like" us at facebook.com/LifeRichPublishing for the latest updates.