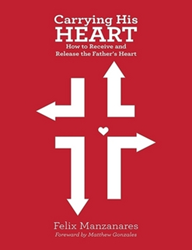 GEORGE TOWN, Grand Cayman (PRWEB) April 29, 2019
Felix Manzanares' insights and personal testimony in "Carrying His Heart: How to Receive and Release the Father's Heart" (published by Lulu) shows believers how to open their hearts to God's love through a connection inspired by the life, death and resurrection of Christ.
In this book Manzanares shares some of struggles with receiving God's love for himself as well as his victories over some of his greatest setbacks in life and faith. The book is interactive and intended to be applicable and inspire people to rise above any situation overcoming them with the love from God. Manzanares takes readers on a journey receiving and releasing the Heart of God. "Carrying His Heart" aims to increase awareness of God's love for everyone while encouraging people to partner with God in sharing his heart with others.
"I believe this book will apply to readers because everyone needs an upgrade on how to receive and release love and when we connect to the Source of love this becomes a lifestyle," Manzanares says. "Also many have faced setbacks and hardships and this book will pull you out of any negative pit that you are in when the love, acceptance, affirmation and care that God has for you is realized and made personal."
The book is available for purchase at: https://www.amazon.com/Carrying-His-Heart-Receive-Release-ebook/dp/B07QD7WRZY.
"Carrying His Heart"
By Felix Manzanares
Softcover | 6 x 9 in | 82 pages | ISBN 9781483499635
E-Book | 82 pages | ISBN 9781483499628
Available at Amazon and Barnes & Noble
About the Author
Felix Manzanares is a disciple of Jesus from the Cayman Islands. He resides on Grand Cayman with his wife, Dorothy, and their two kids, Soleya and Nicolai. He is the lead pastor of Journey Ministries Cayman. Journey Ministries is a growing community of believers pursuing and releasing the kingdom of God in all areas of society. Manzanares is a gifted communicator and an aspiring author who practices living a lifestyle of receiving as a son and releasing as a father. His passion is to equip the equippers to lead well, and it is his desire to awaken people to their destiny and calling.
Lulu empowers people of all ages to explore and express their interests, passions and expertise through books, photography and art. Since introducing self-publishing in 2002, Lulu has empowered creators in more than 225 countries and territories to produce nearly two million publications. Lulu Jr. allows children to become published authors, encouraging creativity, strengthening literacy and building self-esteem. Picture.com offers professional photography of collegiate and professional sports, memorable and historic events, fine art and home décor. For more information, please visit lulu.com.