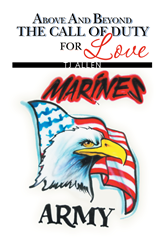 FORT LAUDERDALE, Fla. (PRWEB) April 15, 2019
Choosing between two families is never easy, especially when those families are an at-home unit or the family of brothers and sisters forged through military service—yet it is a choice servicemembers of the United States Military have to make all the time. Author TJ Allen's new novel, "Above and Beyond the Call of Duty for Love" centers on the story of one woman and her husband who is faced with this difficult decision.
In the book, readers are taken through the life of Tina Williams, ex-wife of soldier Timothy Scott Allen, a corporal assigned to the U.S. Marines air traffic control unit. Tina is faced with the option to completely devote herself to Timothy, despite the fact that he cannot return the devotion—or completely leave Timothy altogether. Eventually, Tina does decide to leave him but returns to help others within the military despite her own painful memories.
After a while, Tina is called to testify in a case between Linda and Joe Chambers' marriage that will prove that the longer they stay in the military service, the worse their marriage will be, eventually leading to divorce. Tina's testimony requires her to relive all her nightmares with her ex-husband. Aside from the court case, Tina and Detective Robbie Otto find themselves investigating a serial killer who murders women.
"I have the utmost respect for spouses of military service members," the author said. "It is a very tough thing, to have to say good-bye to your loved one for months at a time. Unfortunately, the story does not always end in tearful hugs and welcome-home balloons—I tried to portray the other side of the homecoming."
"Above and Beyond the Call of Duty for Love" is a gripping story of military divorce, court battles, murder mysteries, investigations, and even sensual desires that is sure to leave readers unable to put the book down.
"Above and Beyond the Call of Duty for Love"
By TJ Allen
ISBN: 9781479769001 (softcover); 9781479769018 (eBook)
Available at Xlibris, Amazon and Barnes & Noble
About the author
Hailing from Ft. Lauderdale, Florida, TJ Allen is a seasoned author of several books including "Mirrored Image", a story based on true events and shrouded in mental health and abuse, and "Perfect Aquarian", the story of a mother who agrees to bear children under the condition they are born under the Aquarius star sign.
Contact:
LAVIDGE – Phoenix
Kalin Thomas
480-648-7540
kthomas(at)lavidge(dot)com