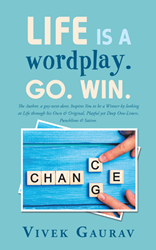 MUMBAI, India (PRWEB) April 30, 2019
As a keen observer of life and its various elements, Vivek Gaurav developed a passion to look at these elements in detail and describe them in the most witty and playful way, by playing with words and language. Gaurav then realized that if he shares his observations and commentary about life to readers, it may help them start looking at life in a more fun and light manner, hence, helping them "win" at every step in life. Such realization found fruition in "Life Is a Wordplay. Go. Win." (published by Partridge India).
In the book, Gaurav hopes to inspire readers to be winners, by providing them a lens for looking at life and its elements in a different manner, through Gaurav's own one-liners, quotations, punchlines and satires that he describes as "original, witty, playful yet deep."
The quotes are classified into sections for a better reading experience. The book begins its roller coaster ride with quotes around life, philosophy and experiences. As soon as the progression begins to sound logical by moving into behavior and beliefs, it suddenly takes a sharp hair-pin turn into the world of food, fitness and health. It, then, comes back to track and takes readers to self-improvement and motivation. It will help readers use the book as a reference for a quote belonging to a particular section. Also, Gaurav is positive that while some readers will have fun reading the quotes, most of them might get inspired to start thinking of their own quotes and sayings.
"The centre theme [of the book] is life and its elements. Hence, all quotes are connected to each other by a common thread called life, but are still discrete from each other because they touch highly unique aspects of life," Gaurav points out. "Since Wordplay is a driving force behind this book, people will learn how to have fun with words and be creative with language."
"Life Is a Wordplay. Go. Win."
By Vivek Gaurav
Hardcover | 5x8 in | 228 pages | ISBN 9781543704419
Softcover | 5x8 in | 228 pages | ISBN 9781543704402
E-Book | 228 pages | ISBN 9781543704396
Available at Amazon and Barnes & Noble
About the Author
Vivek Gaurav is a first-time author and an "author-by-accident." His passion for expressing himself on social media platforms through his own and original witty one-liners and quotes, inspired him to write "Life Is a Wordplay. Go. Win." Professionally, he is a corporate-cubicle dweller having spent around 14 years in various industries like paints, oral-care, health and beauty, and food. His areas of expertise are supply chain and its various elements like sales and operations planning, manufacturing, logistics and planning. He is an industry-thought leader and is regularly visible on many panel discussions at various industry events. His interviews got featured in various prestigious publications in the area of business and supply chain transformation. He also calls himself a "failed entrepreneur" after he and his wife created and ran a food start-up for two years. He continues to stay a true food enthusiast, at heart.
Partridge India, a Penguin company, is a leading provider of book publishing, marketing, and bookselling services for authors in India, all priced appropriately for the Indian market. Committed to providing the highest level of customer service, Partridge India assigns each author personal publishing and marketing consultants who provide guidance throughout the process. Partridge India shares its headquarters with Penguin Books India in New Delhi. For more information or to publish a book, visit partridgepublishing.com/india or call 000.800.10062.62. For the latest, follow @PartridgeIndia on Twitter.