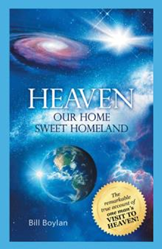 RAPID CITY, S.D. (PRWEB) November 07, 2019
Author Bill Boylan shares things he says he saw on his visit to heaven on March 6, 2018 in his new book "Heaven: Our Home Sweet Homeland" (published by LifeRich Publishing).
Boylan wrote "Heaven" to restore hope to those who have had their hope "leached out of them" and to give hope to those who had none to begin with. The author prays that people reading his account of his visit to heaven will find a rock-solid sense of purpose, meaning, and hope to which they can anchor their lives. Boylan describes heaven unlike anything most people imagine — especially those who think heaven is some sort of eternal, boring church service somewhere above the clouds in "the sweet bye and bye."
"Heaven" is available for purchase on Amazon at https://www.amazon.com/Heaven-Our-Home-Sweet-Homeland-ebook/dp/B07Z8W61BV.
"Heaven"
By Bill Boylan
Hardcover | 5.5 x 8.5in | 174 pages | ISBN 9781489724403
Softcover | 5.5 x 8.5in | 174 pages | ISBN 9781489724427
E-Book | 174 pages | ISBN 9781489724410
Available at Amazon and Barnes & Noble
About the Author
Bill Boylan entered into adulthood by enlisting in the U.S. military shortly after his high school graduation. After serving his first term of active duty, he completed his bachelor's degree. He then taught in various public schools and at a technical institute. Later, he worked as a medical administrator at Veterans Administration as a human resource specialist, a part-time counselor, and spent a combination of over 34 years in the active and reserve components of the U.S. armed forces. He is a lifelong member of the Disabled Veterans of America with a 70% disability suffered while on active duty. Along the way, Boylan earned two master's degrees and was later honored by being awarded a lifelong learning doctorate. Boylan and his wife, Anne, live in Rapid City, South Dakota, not far from the world famous Mount Rushmore. They have four children, three grandchildren, and five great-grandchildren.
LifeRich Publishing, the strategic publishing partnership of Reader's Digest and Author Solutions, LLC, was created to provide all writers a platform for sharing their stories, recipes, advice and more. LifeRich authors will benefit from a wealth of editorial design, marketing and education resources, specially created by Reader's Digest editors for the enrichment of these LifeSmart individuals. Books can be published in print, ebook or audio formats, with additional distribution to up to 25 million Reader's Digest customers through its online properties. Follow @LifeRichPub on Twitter or "Like" us at facebook.com/LifeRichPublishing for the latest updates.