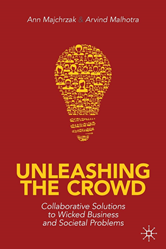 "We demonstrate how innovative and useful solutions can be generated by crowds of people who individually only spend a few minutes, receive minimal financial incentives, use simple technology platforms, and don't know each other."
CHAPEL HILL, N.C. (PRWEB) December 03, 2019
How to leverage crowds to solve complex business and societal problems is the focus of a new book by Arvind Malhotra, a professor at the University of North Carolina Kenan-Flagler Business School, and Ann Majchrzak, a professor at the USC Marshall School of Business.
They seek to disrupt the way practitioners and academics think about crowdsourcing, innovation and organizational structures in "Unleashing the Crowd: Collaborative Solutions to Wicked Business and Societal Problems" (Palgrave Macmillan, 2019).
"Crowds can do more – they can collaboratively produce ideas that can be implemented to change the world," says Malhotra, the H. Allen Andrew Professor of Entrepreneurial Education and professor of strategy and entrepreneurship at UNC Kenan-Flagler. "Crowds can help innovatively solve what we call 'wicked' problems – big business and societal problems that are difficult or near impossible to solve by any individual or even a small group of people.
"We share our vision for a new approach to collectively producing innovative solutions and provide evidence that this new way of thinking of crowds and crowdsourcing can perform much better than before," says Majchrzak. "We demonstrate how innovative and useful solutions can be generated by crowds of people who individually only spend a few minutes, receive minimal financial incentives, use simple technology platforms, and don't know each other."
"We show that when you remove the 'mindcuffs' on the conventional crowdsourcing process, crowds are more efficient at collaboratively producing ideas that are more innovative," says Malhotra.
The book is built on a series of five case studies of flash crowds and 20 crowdsourcing events in which innovative outcomes were achieved, including:

Offering ways for an organization to strategically differentiate itself from competitors
Suggesting novel ways to reduce New Zealand's pest problems
Developing new work practices for a global firm
Designing new delivery methods for healthcare
Pivoting an industry's widely practiced business model
Changing a company's culture
Identifying initiatives for a government agency to invest in developing countries
Five practices show what's different
The authors explain practices that the crowds organically followed and detail characteristics of their new form of crowdsourcing. After a deep, analytical examination of the trace data left by the 20 crowds, they identified five practices used by the crowds:
1. Passing of knowledge (bits) batons
2. Sharing a variety of types of knowledge
3. Amplifying creative associations
4. Reconstructing the problem to spark creative associations
5. Letting everyone in the crowd play the roles they prefer
"With mindcuffs removed, crowds generate innovative solutions because they aren't obligated to follow the practices of yesteryear and so can challenge assumptions that have kept organizations from the breakthrough thinking they need," says Malhotra. "They simultaneously generate and resolve complex paradoxical objectives, listening and reading as they all share sound-bites of their many different perspectives held not just because of their formal job roles, but, more importantly because of their observations from practice."
"Unlocking how the crowd resolves the paradox of solving big problems through little efforts – pieces of knowledge and time – is what makes our book unique," he says.
What it means for the future
"Connectivity, easy access to data, powerful search engines and knowledge-sharing platforms give us the power to use our knowledge to solve whichever wicked problems interest us, and join whichever flash crowd suits our fancy," says Malhotra. "This has huge implications for the future of work, from organizational structures that elicit new ways of thinking to truly innovative individuals who could have highly fluidity and mobility while earning their livelihoods."
With this new model of crowdsourcing, when a need or problem emerges, a company of any size can initiate a "spur of the moment" or flash crowd in real-time through an open call using connective technologies. People can seamlessly connect and exchange knowledge.
The book is written for both practitioners and researchers, meeting practical needs for advice backed by the precision of scholarly research, say the authors.
"The current approach to crowdsourcing limits the crowd to only offering ideas, locking out people who have knowledge about a problem," says Majchrzak. "We want to revolutionize current assumptions about how innovation and crowdsourcing should be managed for both commercial and societal purpose."
MIT Sloan School of Management professor Eric von Hippel describes "Unleashing the Crowd" as the "first very interesting and novel book on crowdsourcing in years. The authors look deeply into how effective problem-solving via crowdsourcing works – and provide us all with very valuable insights for both new research directions and improved practice."
Malhotra discusses the book in this podcast.
#
About the University of North Carolina Kenan-Flagler Business School
Consistently ranked one of the world's best business schools, UNC Kenan-Flagler offers a broad range of programs – Undergraduate, MBA and Master of Accounting, PhD and Executive Development – and extraordinary, real-life learning experiences. Faculty demonstrate unparalleled dedication to students' learning and a commitment to world-class research that addresses critical business challenges. Contributing to the School's thought leadership is the Frank Hawkins Kenan Institute of Private Enterprise, which promotes innovative, market-based solutions to vital economic issues. UNC Kenan-Flagler's collaborative culture is rooted in core values that date back to its founding in 1919, and graduates are renowned as effective, principled leaders with the technical knowledge and leadership skills to deliver results in the global business environment.