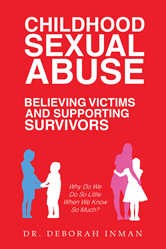 WASHINGTON (PRWEB) January 07, 2019
To help the general public recognize the silent majority amidst the #MeToo and #WhyIDidntReport movements, Dr. Deborah Inman has released "Childhood Sexual Abuse: Believing Victims and Supporting Survivors," a well-informed, understanding and straightforward book about how to cope when one finds out a loved one has been abused as a child.
The book places strong emphasis on believing the child and supporting the child, as well as ways the abuse may affect children as they grow and develop. It is backed up with research on childhood sexual abuse statistics that support the fact children do not lie about such a thing. Inman provides resources for parents to understand the process for reporting suspected abuse and supporting their children through coping with the trauma.
Inman's life experiences and research provide her the knowledge and understanding of the need to educate all parents and demand a call for action from policymakers, legislatives and mental health professionals to empower and support victims/survivors of childhood sexual abuse.
"While the #MeToo movement has been so helpful for adults trying to heal and come forward," Inman acknowledged, "it is children who remain the silent majority of victims of sexual predators and pedophiles. We must take on the responsibility of speaking out for those who can't."
By reading through "Childhood Sexual Abuse," readers will begin to understand the magnitude of the problem and the key steps to helping the child and family cope and move forward.
"Childhood Sexual Abuse: Believing Victims and Supporting Survivors"
By Dr. Deborah Inman
ISBN: 978-1532054952 (softcover); 978-1532054976 (hardcover)
Available at the iUniverse Online Bookstore, Barnes and Noble and Amazon
About the author
Dr. Deborah Inman earned her graduate degrees from Columbia University and has experience working with families that have been affected by childhood sexual abuse. She offers life coaching for families, as well as webinars/training for anyone working with children and families regarding childhood sexual abuse. She understands that childhood sexual abuse knows no boundaries, as it affects families from all educational levels, every socioeconomic status, and all walks of life. To learn more about Inman's work and book, please visit https://www.survivingchildsexabuse.com.
Contact:
LAVIDGE – Phoenix
Kalin Thomas
480-648-7540
kthomas(at)lavidge(dot)com
###