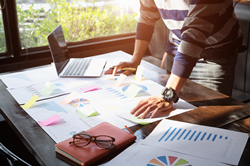 "It's not just a matter of knowing your numbers. It's knowing how you can use them to better."
LAS VEGAS (PRWEB) February 12, 2019
Bravo Pawn Systems has released a new data-analytics reporting suite to support their industry-renowned pawnshop management software. The just-announced Bravo Reporting Pro tool leverages and contextualizes data from every aspect of a pawn shop's operations to offer a crystal-clear view of everything from loan and sales analysis, customer demographics, to areas of management opportunity.
"Bravo is the first pawn software that gives users the power of a full data warehouse," says Bravo CEO Tally Mack, herself a 5th-generation pawnbroker. "Our mission is to help pawnbrokers grow and stay competitive, and we understand that to do so, we need to give pawn shop owners the power and insight necessary to make competitive decisions."
From the moment a pawn shop owner begins using Reporting Pro, the application automatically generates and organizes 40 different customizable reports across eight different data cubes. Each set is composed of industry-standard, best-practices analytics, all geared toward offering pawnbrokers valuable, predictive, and actionable information they can immediately put to practical use.
"No matter how you manage your business, we've made it easy to utilize your data," says Mack. "Plus, the cloud-based nature of the service means you can securely access and run reports from any web-connected device, including tablets, laptops, and even a mobile phone."
Exporting reports, authorizing users, and even scheduling emails to be generated and delivered to your inbox is also as easy as selecting a menu option.
"Reporting Pro has been designed from the ground up to offer pawnbrokers not just accurate data tracking, but also a long-range strategic view of the most important trends inherent to their business," says Mack. "By aggregating and contrasting these key factors, it becomes easier to plan for long-term success, as well as avoid common pitfalls that could negatively impact the overall bottom line."
In short, Reporting Pro is able to offer pawnbrokers an individualized, constantly-updated picture of what's working, what isn't, and how best to make the most of their resources to ensure consistent future growth.
"We're confident that Bravo's Reporting Pro offers the most comprehensive, and action-oriented data-analytics package available to pawnbrokers," says Mack. "As ever, we're committed to offering pawn shops not just insight, but inspiration."
Bravo's Reporting Pro is available now. Visit BravoPawnSystems.com for more information.
About Bravo:
Bravo Pawn Systems is a point-of-sale, e-Commerce and mobile platform for the pawn industry. Launched in 2011, Bravo is the only pawn software developed by pawnbrokers for pawnbrokers. As the only Microsoft Azure cloud-based pawn software system on the market, Bravo strives to enable pawnshops to grow their business by providing innovative technology and world-class customer service to help them compete with national big box stores, visit bravopawnsystems.com or follow us on Facebook, Twitter, LinkedIn and YouTube.
Bravo Media Contact:
Millet Concepcion
1-888-407-6287 ext.142
millet@buya.com