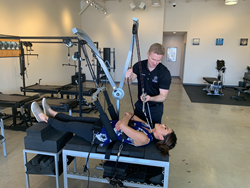 At Optimal Spine & Posture our clinic encompasses a culture that cultivates health, healing, and prosperity from the inside out. We consider total body health to provide a comprehensive understanding of biology, physiology, and body mechanics as it relates to your quality of life
BOISE, Idaho (PRWEB) January 24, 2022
A brand new chiropractic clinic and spine rehab facility, Optimal Spine & Posture, is now open and serving the Boise, ID communities. Optimal Spine & Posture not only specializes in posture, but an array of spine disorders including low back pain, neck pain, headaches and migraines, hyperkyphosis and scoliosis.
Optimal Spine & Posture's spine rehab and wellness center not only provides its patients with the most effective and reliable methods of treating musculoskeletal conditions, but they strive to empower their patients with the knowledge and tools that allow them to protect themselves from future injury and to positively influence their own future state of health and well-being in the years to come.  
The team at Optimal Spine & Posture is led by Dr. Justin Anderson, D.C. who is an advanced certified Chiropractic Biophysics® clinician and diplomate. Chiropractic Biophysics or CBP® is a biomechanically based technique system that uses a combined chiropractic and spinal rehabilitation approach. A graduate of Palmer College of Chiropractic in Davenport, IA, Dr. Justin has over 3,000 hours of post-doctorate coursework in clinical biomechanics and clinical study.  As an advanced CBP diplomate, researcher, and instructor, Dr. Anderson now has two studies published in peer-reviewed medical journals detailing the successes achieved in his practices. 
"At Optimal Spine & Posture our clinic encompasses a culture that cultivates health, healing, and prosperity from the inside out. We consider total body health to provide a comprehensive understanding of biology, physiology, and body mechanics as it relates to your quality of life," says owner and clinic director Dr. Justin Anderson.
"We put the health of our patients first, working to provide care that resolves the real problem and not merely the symptom, with the consideration of preventative care in the future. We provide a friendly, high-energy atmosphere that offers our patients a warm, loving environment and provides them peace of mind in their healthcare decisions."
About Optimal Spine & Posture
Optimal Spine & Posture is the trusted leader in spine correction, an innovative force, where chiropractic meets advanced spine correction.
Specializing in neck and back pain, advanced spine correction, auto injury, scoliosis rehabilitation and scoliosis bracing, headaches and migraines.
At Optimal Spine & Posture there are treatment options for pain relief, spine correction and structural restoration, along with wellness care for those seeking to continue to function at optimal levels once their problem is corrected.
Optimal Spine & Posture
Address: 6744 N Glenwood St, Boise, ID 83714, United States
Phone: +1 208-748-5909
Website: https://optimalchiropracticboise.com
Boise Chiropractor