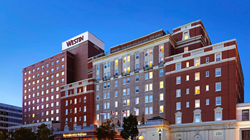 Aptech has more experience with hotel accounting software than any other provider and we value that expertise. We easily converted our 21 companies to Aptech's new PVNG enterprise accounting platform.
PITTSBURGH (PRWEB) March 19, 2019
Aptech Computer Systems announced New Castle Hotels & Resorts upgraded its back office system to PVNG Enterprise Financial Accounting to centralize processes for 21 properties. New Castle Hotels & Resorts (NCH) is a prominent operator of Marriott, Hilton, Choice and independent properties. Aptech Computer Systems is the leading provider of business intelligence, budgeting and forecasting, and enterprise hotel accounting software systems in the hospitality industry. Click here for more on Aptech's products and services.
"NCH used Aptech's Profitvue multi-property accounting system for 30 years. We evaluated many systems and selected Aptech's PVNG for future operations," said Nina Selvaggi, New Castle Hotels & Resorts director of hotel accounting. "Aptech has more experience with hotel accounting software than any other provider and we value that expertise. We easily converted our 21 companies to Aptech's new PVNG enterprise accounting platform. This was the smoothest system conversion I have ever been involved in. PVNG is an excellent financial accounting system for a reasonable price. The system is very user-friendly. There was very little I needed to do for the conversion, Aptech handled everything."
Aptech's browser-based PVNG Enterprise Accounting System simplifies accounting operations and safeguards data in the cloud. Its easy to navigate architecture, and robust functionality expands on Aptech's Profitvue application used by thousands of hotel accounting professionals. PVNG supports one property or a large multi-brand, multi-property portfolio.
"Aptech is the industry standard for a reason; that reason is experience," said Jill Wilder, Aptech vice president. "We worked closely with New Castle Hotels' team during their installation. They are a great group of hospitality professionals that thoroughly understand multi-property, multi-company financial processes. Nina and her group put PVNG to work for NCH's Marriott, Hilton and other flags easily."
"PVNG gives us the flexibility to add users and restrict their roles within the program. This is important in multi-company operations," Selvaggi said. "We now have all properties entering their own accounts payable invoices directly into PVNG. The properties have access to see the payment status of their vendors and this has streamlined our AP process. Financial Reports are simple to run and can be quickly converted into an Excel format. Aptech's support and training are excellent. After conversion, Aptech assigned one person to guide us through the new system. She handled all our concerns quickly. We are very pleased with PVNG and the support we receive from Aptech."
PVNG is the next generation of enterprise accounting. It is uniquely engineered to accommodate a variety of deployment options and can easily handle both single and multi-property accounting. PVNG uses the most current technology platform and incorporates AP, GL, AR, Statistics, Financials, and a Bank Reconciliation, all with familiar browser navigation.
"PVNG makes it simple for operators to become 11th Edition-compliant by implementing its packaged chart of accounts and financial statements. Plus, PVNG's cloud platform lets Aptech monitor and support all aspects of users' system processes for hands-on support if needed," Wilder said.
About Aptech Computer Systems, Inc.
Aptech Computer Systems, Inc., based in Pittsburgh, Pennsylvania, is the only provider of a fully integrated enterprise accounting, business intelligence and planning ecosystem to the hospitality industry. All of its clients are companies like yours, which own or manage hotels. Its solutions help customers at both the corporate and property levels understand their financial and operational data for faster goal achievement.
The company is renowned for introducing business intelligence into the hotel industry, and offers a solid resource of hospitality professionals. Aptech is an IBM Software Value Plus partner and Premier Solution Provider, as well as a Prophix Premier Business Partner.
Incorporated in 1970, Aptech's state-of-the-art back office, true business intelligence and enterprise planning solutions are 100% hotel specific. Solutions include PVNG, Execuvue® and Targetvue. Clients comprise over 3,500 properties - including large chains, multiple-property management companies and single-site hotels. Execuvue is registered to Aptech Computer Systems, Inc. All other trademarks are owned by their respective holders. For more information please visit http://www.aptech-inc.com.
About New Castle Hotels & Resorts
New Castle Hotels & Resorts is an award-winning independent third-party hotel manager, owner and developer with 21 hotels and resorts and nearly 4,000 rooms under contract or in development. New Castle's growing portfolio of hotels spans nine states and three Canadian provinces and includes several of Canada's historic landmark resorts. The privately-held company was established by David Buffam in 1980 and consistently ranks among the top hotel management and development companies in North America. New Castle is a preferred or approved operator for diverse brands within the Marriott, Hilton, Hyatt and Choice families. Learn more about New Castle on Facebook.