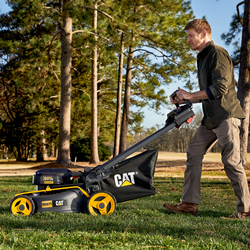 CHARLOTTE, N.C. (PRWEB) March 08, 2023
The new Cat® 60V 21 in. Self-Propelled Lawnmower (DG671) is loaded with multiple features and attributes. The Cat brand is recognized worldwide for the engineering innovation and rugged dependability of its building and construction equipment. Now, with the emergence of Cat 60V outdoor power equipment, the same focus on quality, durability and performance continues.
This 60V Cat mower is outfitted with a high-efficiency brushless motor which provides gas-like power and performance. Its durable 21 in. steel deck provides superior mulching capability, and its rear-wheel-drive transmission delivers positive traction and maneuverability over hilly or uneven terrain.
The self-propelled lawnmower's speed is adjustable to handle any operator's walking pace. The mower's hi-performance brushless motor provides up to 40 percent more power and 10 percent longer run time than standard motors.
It's maintenance free, so no gas, oil, spark plug or air filter is needed with the Cat mower or costly tune-ups. It's powered by a 60V 5.0Ah Max lithium-ion battery capable of cutting up to a ¼ acre lot on a full charge. The battery's charge level can be monitored with just a touch of a button. There's additional room for a second battery to allow for additional runtime in the mower's powerhead. The Cat 60V battery is compatible with other Cat lawn and garden tools in the 60V platform.
The self-propelled mower features TorqueLogic™, a torque-on-demand system that maintains constant cutting efficiency by electronically monitoring the need for torque. Sensors adjust to higher torque for thicker grass and reduces torque automatically when it's no longer needed for everyday mowing, maximizing battery efficiency.
The mower is a 3-in-1 which provides the capability to mulch, bag or side-discharging of grass clippings. A dual mode lever allows the user to choose between mulching or bagging, eliminating the need for a mulch plug. . . The mower deck's steel construction allows for better airflow to create lift for superior mulching or bagging results. The mower's blade-mulching-action cuts grass into fine particles, returning them to the soil for fertilization. If bagging is preferred, the mower has a 2-bushel grass bag with carrying handle for easy emptying.
A single-lever deck lift adjustment provides seven cutting positions from 1-1/2 to 4 in. A cutting height scale is integrated into the rim of the mower's deck. This enables the user to quickly select the desired mowing height for the type of grass, season and growing conditions. The deck is equipped with 8 in. front wheels and 10 in. rear wheels for mobility and maneuverability around trees, shrubs, flower beds and other obstacles.
The user-friendly mower features two-step electric starting. First, push and hold the start button, while pulling back on the bail handle. Then, pull up on the self-propel handle to engage self-propel action. A safety lock-out button located on the control panel prevents unauthorized use.
The ergonomic mower features a comfort handle with three adjustable positions. A single push-button release collapses the mower's handle for compact, vertical storage.
The mower also includes an LED headlight which allows for better visibility when mowing at dusk or low light conditions.
Standard equipment includes one 60V 5.0Ah Max lithium-ion battery, a 1 hr. charger, rear grass bag and side-discharge chute.
Video link: https://www.youtube.com/watch?v=0Ns4pvxhUbY
The Cat 60V 21 in. Self-Propelled Lawnmower (DG671) is available at Tractorsupply.com, Mowersdirect.com and Amazon. The mower is covered by the Cat five-year limited warranty. For more information about Cat outdoor power equipment and Cat power tools visit Catpowertools.com
# # #
About Cat® Tools
The Cat® brand is recognized as the global leader in building and construction equipment. Today, new lines of Cat professional-grade outdoor power equipment, cordless and corded power tools, manufactured by Positec Tool Corporation, provide the same high level of performance and dependability. Cat power tools include new performance-enhancing innovations in battery technology and high efficiency brushless motors. Visit http://www.Catpowertools.com.
© 2021 Caterpillar. All Rights Reserved. CAT, CATERPILLAR, LET'S DO THE WORK, their respective logos, "Caterpillar Yellow," the "Power Edge" and "Modern Hex" trade dress as well as corporate and product identity used herein, are trademarks of Caterpillar and may not be used without permission. Positec Group Limited, a licensee of Caterpillar Inc. http://www.Cat.com / http://www.Caterpillar.com
Media Contacts:
Mike Mangan, MKM Comm.
847/255-1903
mkmcomm@gmail.com
Meg Butterly/Cat
704/773-5363
Meg.Butterly@positecgroup.com