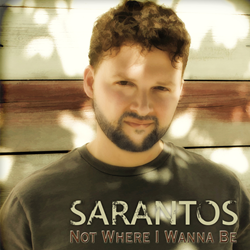 Everything is for my fans and it's all about them. I'm not going anywhere and I won't abandon them. I'm going to continue releasing a new song and music video every month until the day I die! I'm just getting started...
(PRWEB) November 18, 2014
Sarantos is a solo rock artist who has been releasing a new song every month all year long in 2014. Well the moment of truth has arrived and the CD has dropped.
Sarantos' first CD called "Not Where I Wanna Be" is finally released to the public on November 18th 2014. Sarantos has developed a knack for surprising his fans all year long. From giving away all his music for nothing, to writing a fiction/fantasy book to the latest surprise!
You can of course purchase the digital CD on iTunes, Amazon, Google and almost anywhere but fans might want to purchase an exclusive physical copy directly from his website. It's by far the biggest giveaway ever in the history of physical CD sales. Sarantos has not seen any artist ever give away all of this to anyone who purchased their CD – songs, videos, instrumentals, lyrics sheets, chance to have dinner, be in a music video etc.
Sarantos even came up with three reasons why fans should purchase this CD:
1. Sarantos will sign it and add a personal message.
2. Fans will get a personal email from Sarantos with a link where they can download, legally own and be able share with Sarantos permission all of the following:

All music videos in HD quality
Instrumental versions of all these songs
Signed lyric sheets for all these songs
A personal shout-out on one of Sarantos social media pages for all the world to see!
A video thank you to all the fans that purchase the CD
Five signed digital photos of Sarantos (don't use them for target practice please)
One entry for the opportunity to win a special one of a kind limited edition Sarantos T-shirt with fan's name on it.
One entry for the opportunity to win a 30 minute private Skype session with Sarantos where fans can basically ask anything they want
One entry for the opportunity to win a signed microphone Sarantos actually used to record one of these songs (name of the song will be signed onto the microphone)
One entry for the opportunity to win a Free dinner with Sarantos at Wildfire in Glenview, IL in the USA. Bring any 2 people you want. Sarantos treat on dinner but travel expenses excluded.
One entry for the opportunity to win and join Sarantos on a music video shoot for one day so get ready to be an actor/actress. Fans get to be in a real live music video! The video will be for one of the future songs. And yes, Sarantos will treat to lunch and dinner but travel expenses excluded.
3. Because fans know they really want to! Besides it's only $14.99 (includes USPS shipping anywhere in the continental United States)."
** Must purchase before Jan 15th 2015. Winners will be notified by Jan 30th 2015.
Sarantos was nominated for 2 awards for the 2014 International Music & Entertainment Awards for the categories of "Rock Song of the Year" and "Pop Album of the Year."
"This is a very cool deal I think," says Sarantos. "I am proud of my 1st CD and I wanted to give the fans a unique opportunity and experience. They know I'm giving away all of my music for free to them so I sat down and thought hard about what would I want as a fan to buy an exclusive copy of a CD from one of my favorite bands. My 3 reasons to buy my CD is the end result. I hope they enjoy it. Everything is for my fans and it's all about them. I'm not going anywhere and I won't abandon them. I'm going to continue releasing a new song and music video every month until the day I die! I'm just getting started..."
Thirty-three percent of any music-related sales profits are going straight to the chosen charity for each song.
Chicago's very own music artist has been gaining followers ever since his first song debut back in January 2014. Internationally, the buzz has continued to spread and Sarantos music has received well over 1M radio airplays. His fan list continues to grow quickly and consistently.
The social media realm has continued to embrace this rising star. In addition to the attention of over 1.4M Twitter, Facebook, Google+, and Instagram followers. Sarantos continues to be invited to many radio interviews throughout the world. All this commotion started when his 1st song, "Not Where I Wanna Be," was released worldwide on January 2nd, 2014.
Sarantos strives to inspire people with his songs and lyrics. Music is always on his mind and Sarantos has written over 2,000 songs. Sarantos' music has received rave reviews so far from industry insiders, and he relishes this chance to pursue his lifelong dream.
Sarantos unique sound has been best described by industry insiders as "an emotionally powerful vocal style masterfully united with music that is a fusion of classic 80s rock blended with modern soft rock and pop music."
There will be plenty of continued buzz throughout the year. Every single year until the day he dies, Sarantos will release a new song every month meaning 11 songs each year with a new CD every November. A new song will be released the 1st Tuesday of every month, then a new music video on the 2nd Tuesday of every month, a new Funny video of the month on the 3rd Tuesday of every month, and a new Whiteboard video on the 4th Tuesday of every month. A new CD will then be released every November. Additionally, Sarantos revealed that he is also going to start releasing a new Chapter from his fiction/fantasy book each month with the final book also coming out at the end of the year.
Sarantos has always been inclined to help people in need and is proud to launch this CD as a way to donate a significant portion of proceeds to charity, hopefully inspiring other artists to do the same. The 11 charities chosen for each album song include American Lung Association, Make-a-wish Foundation, American Heart Association, St Jude's, Hellenic Academy, Aserf, American Red Cross, Children's Hospital of Chicago, Chicago Medical School, Thanioton Society, and the Cystic Fibrosis Foundation.
The website, Melogia (which in Greek means "with words"), was established by Sarantos, an aspiring singer and song writer.
*Sign up for the FREE zine and get all the inside info ahead of everyone else. Remember, you can always find all of Sarantos songs, lyric sheets, videos and books on his website for free at https://www.melogia.com/music.html. Share his song mp3s for free with anyone you want via email or any of the social media platforms.
Website
http://www.melogia.com
Sarantos Facebook artist page:
https://www.facebook.com/Sarantosmelogia
Sarantos Twitter:
http://www.twitter.com/sarantosmelogia
Sarantos iTunes:
http://bit.ly/SarantosAppleStore