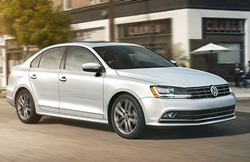 GLENDALE, Calif. (PRWEB) August 20, 2019
New Century Volkswagen is a retailer of Volkswagen vehicles in the Los Angeles area. It offers new and used vehicles, including Certified Pre-Owned (CPO) Volkswagen vehicles. Currently, New Century Volkswagen is promoting its CPO vehicles to drivers in the LA area.
CPO vehicles are pre-owned vehicles that have been rigorously inspected for defects and found up to par with the brand's standards. Volkswagen is so confident in its CPO vehicles that it provides them with limited warranties, which many used cars do not have. The limited warranty available to a CPO vehicle depends on which model year is purchased. Model year 2017 and earlier vehicles receive a two-year or 24,000-mile warranty, whichever comes first. 2018 models and newer receive a one-year or 12,000-mile warranty, whichever comes first. 2016 and earlier TDI models get a two-year unlimited warranty. Each of the warranties is a Comprehensive Limited Warranty.
Drivers who are looking for a reliable, pre-owned vehicle are encouraged to come into New Century Volkswagen to look at its CPO vehicles. New Century Volkswagen also has an online inventory showing its CPO vehicles, which can be found on its website, newcenturyvw.com, as Certified Volkswagen under the Pre-Owned drop-down menu at the top of the site. More information about CPO vehicles and warranty options can also be found on the dealership's site.
Customers with any questions about CPO vehicles should direct them to the dealership's sales team. The sales team can be reached by phone at (855) 891-5846. They can also be visited in person at the dealership during business hours.