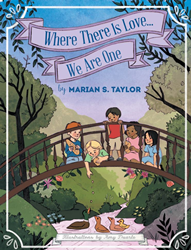 "I am a true believer in looking past outer appearances and looking to the heart of each individual. I support the unifying concept of love for all people which inspired me to write this book." - Marian S. Taylor
EDINBORO, Pa. (PRWEB) May 06, 2019
In her latest children's book, "Where There Is Love…We Are One," author Marian S. Taylor has written a story that allows children to gain a greater understanding of diversity and acceptance. Written in easy to follow rhyme along with beautiful illustrations by artist Amy Duarte that demonstrate diversity and interconnectedness, the book also acts as a conversation starter between parents and children concerning the ways everyone is alike as well as how they differ within the over-riding element of love.
Taylor was motivated to write "Where There Is Love…We Are One" after a career as an educator as well as preparing elementary teachers and reading specialists at the university level. She wants all individuals to respect each other and to look past the differences and find their commonalities.
"I am a true believer in looking past outer appearances and looking to the heart of each individual," said Taylor. "I support the unifying concept of love for all people which inspired me to write this book."
In a world full of challenges, division, and differences there is one concept that unifies all and this book gives children a very clear look at the ways people might be different, but love is the unifying factor, and each person is responsible to bring love and share love in the world. To learn more please visit, http://www.marianstaylor.com.
"Where There Is Love…We Are One"
By Marian S. Taylor
ISBN: 978-1-9822-1082-3 (sc); 978-1-9822-1081-6 (e)
Available through Amazon, Barnes & Noble, and Balboa Press
About the author
Marian S. Taylor, EdD, is a retired university professor and author. Her career began at the elementary level where she taught first grade and served as a reading specialist. She was director of the university laboratory school and a chairperson of a university department. She taught undergraduate and graduate classes while at the university and spent many years directing the program for the development of reading specialists. Taylor has been very involved with her family and with church activities. She is the mother of three grown children and is very proud of her grandchildren.
Review Copies & Interview Requests:
LAVIDGE – Phoenix
Lauren Dickerson
480-998-2600
LDickerson(at)lavidge.com