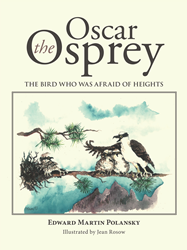 "A sympathetic hero, engaging illustrations, and a strong message make this book a must-have." – Kirkus Review
SAN ANTONIO (PRWEB) September 09, 2019
"Oscar the Osprey: The Bird Who Was Afraid of Heights" introduces readers to Oscar, a newly hatched osprey in the Teton Mountains of Wyoming, who has a very unique hurdle for a bird to overcome. Oscar has difficulty relating to his parents, peers and surroundings and often feels humiliated as a result of his fear of heights. The book presents an amusing and empowering children's story that captures Oscar's journey to self-discovery and ultimately managing his fear while teaching important morals to young readers.
Author Edward Martin Polansky designs all of his books to have morals unveiled throughout the stories. His goal is to provide solutions to real life situations that are simple, practical and effective. In addition, Polansky has had a passion for children's literature since his time working in the children's department of the Corpus Christi Texas Public Library and became particularly inspired by the universal morals in Dr. Seuss books.
"Everyone has handicaps or personal hurdles to deal with in life, but we all have the ability to adapt and overcome those hurdles," said Polansky.
"A sympathetic hero, engaging illustrations, and a strong message make this book a must-have." – Kirkus Review
Readers will take flight on an uplifting adventure with Oscar as he faces his fear and overcomes hurdles with perseverance and effort. The book provides great life lessons to teach children in both a fun and effective manner and the stories of Oscar continue in the next book of the series "Oscar the Osprey: The Bird With a Conundrum" as well as in one more planned book. To learn more please visit, http://www.oscartheospreybook.com.
"Oscar the Osprey: The Bird Who Was Afraid of Heights"
By Edward Martin Polansky
ISBN: 978-1-5049-1010-1 (sc); 978-1-5049-1009-5 (e)
Available for purchase through Amazon, Barnes & Noble and AuthorHouse
To purchase an autographed copy, please contact edward@polanskyinc.com
About the author
Edward Martin Polansky is a Certified Public Accountant (CPA) in San Antonio, Texas and has been in public practice for over forty years. During his career he has written for various technical publications as well as lectured on professional topics. He was inspired to write the "Oscar the Osprey" series after a family summer vacation where they walked across a suspension bridge spanning the Royal Gorge approximately 1,000 feet above the Arkansas River and his son, feeling quite queasy about the height exclaimed, "It would really suck, if you were a bird and afraid of heights!"
For Review Copies & Interview Requests:
LAVIDGE Publicity
Lauren Dickerson
480-998-2600x601
ldickerson@lavidge.com