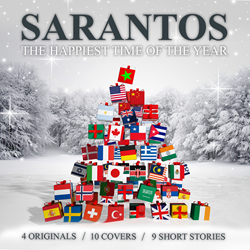 I've always wanted to do this. Just like the best Christmas present you've ever gotten, I wanted to keep it a secret!
(PRWEB) October 28, 2014
Out of nowhere and to the complete surprise of his fans, Sarantos reveals a new Christmas CD is coming out November 28th 2014 on Black Friday right after the 1st CD.
Sarantos is a solo pop/rock artist who has been releasing a new song every month all year long and his 1st CD is set to be released on November 18th, 2014.
The holiday are always about surprises. Out of nowhere and to the complete astonishment of his fans, Sarantos reveals a new Christmas CD is now coming out November 28th 2014 on Black Friday. Well the fans have only one response - where did that come from?
Sarantos 1st Christmas CD is a wonderful collection of 4 brand new original Christmas songs, 10 covers of Christmas classics and 9 inspirational Christmas short stories. Of course the Christmas short stories are read by Sarantos and have some cool special effects and sound effects added in to make listening to them a special treat. Families will enjoy listening to this CD every Christmas season...
Sarantos was nominated for 2 awards for the 2014 International Music & Entertainment Awards for the categories of "Rock Song of the Year" and "Pop Album of the Year."
"This is always something I wanted to do," says Sarantos. "I love Christmas! It is the most special holiday of the year to me and I am absolutely thrilled to release a Christmas CD. Hopefully, families will enjoy it every year for a long long time. It was quite a challenge putting together something unique like this with 23 tracks on it. Just like the best Christmas present you've ever gotten, I wanted to keep it a secret. I hope the fans enjoy it and I have only this to say - Merry Christmas & Happy Holidays!"
33% of any music-related sales profits from this Christmas CD are going straight to the chosen charity - the Salvation Army. Shoppers always see them in the cold ringing their bell during the holiday season. Now, Sarantos hopes to be able to add something to their red container.
Chicago's very own music artist has been gaining followers ever since his first song debut back in January 2014. Internationally, the buzz has continued to spread and Sarantos music has received well over 1M radio airplays. His fan list continues to grow quickly and consistently.
The social media realm has continued to embrace this rising star. In addition to the attention of over 1.4M Twitter, Facebook, Google+, and Instagram followers. Sarantos continues to be invited to many radio interviews throughout the world. All this commotion started when his 1st song, "Not Where I Wanna Be," was released worldwide on January 2nd, 2014.
Sarantos strives to inspire people with his songs and lyrics. Music is always on his mind and Sarantos has written over 2,000 songs. Sarantos' music has received rave reviews so far from industry insiders, and he relishes this chance to pursue his lifelong dream.
Sarantos unique sound has been best described by industry insiders as "an emotionally powerful vocal style masterfully united with music that is a fusion of classic 80s rock blended with modern soft rock and pop music."
There will be plenty of continued buzz throughout the year. Every single year until the day he dies, Sarantos will release a new song every month meaning 11 songs each year with a new CD every November. A new song will be released the 1st Tuesday of every month, then a new music video on the 2nd Tuesday of every month, a new Funny video of the month on the 3rd Tuesday of every month, and a new Whiteboard video on the 4th Tuesday of every month. A new CD will then be released every November. Additionally, Sarantos revealed that he is also going to start releasing a new Chapter from his fiction/fantasy book each month with the final book also coming out at the end of the year.
The website, Melogia (which in Greek means "with words"), was established by Sarantos, an aspiring singer and song writer.
*Remember, fans can always find all of Sarantos songs, lyric sheets, videos and books on his website for free at https://www.melogia.com/music.html. Share his song mp3s for free with anyone you want via email or any of the social media platforms.
Website
http://www.melogia.com
Sarantos Facebook artist page:
https://www.facebook.com/Sarantosmelogia
Sarantos Twitter:
http://www.twitter.com/sarantosmelogia
Sarantos iTunes:
http://bit.ly/SarantosAppleStore