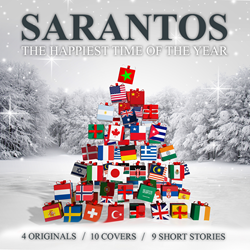 I love it when the fans send me great ideas and I've incorporated quite a few. My fans are just so awesome!
(PRWEB) December 11, 2014
Sarantos Christmas CD tracks have been getting quite a bit of airplay and here come 23 videos for the fans on top of that.
Sarantos released a Christmas album on November 28, 2014. This is a wonderful collection of 4 brand new original Christmas songs, 10 covers of Christmas classics and 9 inspirational Christmas short stories. Families will enjoy listening to this CD every Christmas season...
Sarantos has once again surprised fans by releasing a lyric music video for each of the 23 tracks over 23 days! That means every day from December 1st until the 23rd, fans have been treated to a new music lyric video. Where did Sarantos get this idea - from the fans of course.
"A few fans have asked about lyric videos," says Sarantos. "Since I love Christmas and had 23 tracks on this dual CD, I figured this would be a great time to surprise everyone and release 23 music lyric videos for the fans. I was going to release them all at once but had a cool fan suggest I do it each day over 23 days. I figured, what a great idea!. Moving forward, I plan on also releasing a new lyric music video every month! I love it when the fans send me great ideas and I've incorporated quite a few. My fans are just so awesome!"
33% of any music-related sales profits from this Christmas CD are going straight to the chosen charity - the Salvation Army. Shoppers always see them in the cold ringing their bell during the holiday season. Now, Sarantos hopes to be able to add something to their red container.
Sarantos music has received rave reviews and he relishes this chance to pursue his life long dream.
Sarantos unique sound has been best described by industry insiders as "an emotionally powerful vocal style masterfully united with music that is a fusion of classic 80s rock blended with modern soft rock and pop music!"
Sarantos currently has over 1.4M Social Media followers and is rated #6 on Reverbnation in the pop genre worldwide. Sarantos performed at the Toronto Music Festival on May 6th to a sold out live audience.
Sarantos was nominated for 2 awards for the 2014 International Music & Entertainments Awards for the categories of "Rock Song of the Year" and "Pop Album of the Year".
With recorded hits and new tunes waiting to be released every single month until the day he dies, Sarantos music screams success and stimulates an overdue conversation in the changing music industry. Sarantos loyal music fans continue to show their support by proudly showing off Sarantos merchandise and staying tuned into Sarantos daily down-to-earth and very real social media revelations. His songs are being broadcast every day on various radios stations around the world. Sarantos continues to do interviews around the world every single week and fans can listen in to some of them on his YouTube page. Let's not forget his funny, sarcastic, witty and genuine music videos that leave his fans not knowing what to expect next.
There will be plenty of continued buzz throughout the year as Sarantos strives to release something for his fans every single week! Every year until the day he dies, Sarantos will release a new song on the 1st Tuesday of every month, a new music video on the 2nd Tuesday of every month, a chapter from his fiction/fantasy book on the 3rd Tuesday of every month, and a new Whiteboard video on the 4th Tuesday of every month. A new CD will then be released every November.
Sarantos has been writing lyrics since 4th grade and is passionate about the words he puts to the music. Music was always in his blood. Music was always a passion and much more than a hobby. Sarantos has written over 2,000 songs!
Having undergone several personal challenges with Sarantos' father passing away four years ago after a long hard-fought battle with lung cancer, dealing with personal health issues like asthma and allergies which affected his singing style, going thru life's ups & downs, the timing was finally right. And so it began. Sarantos main motivation remains, however, to raise money for charity.
33% of any music related sales are going straight to charity!
Sarantos has always been inclined to help people in need and is proud to launch his music as a way to donate a portion of proceeds to charity, hopefully inspiring other artists to do the same. Just a few of the charities chosen so far include American Cancer Society, American Lung Association, Make-a-Wish Foundation, American Heart Association, St Jude's, Hellenic Academy, ASERF, American Red Cross, Salvaton Army, Children's Hospital of Chicago, Chicago Medical School, Thanioton Society & the Cystic Fibrosis Foundation.
The website, Melogia (which in Greek means "with words") was established by Sarantos, an aspiring singer and song writer.
*Remember, fans can always find all of Sarantos songs, lyric sheets, videos and books on his website for free at https://www.melogia.com/music.html. Share his song mp3s for free with anyone you want via email or any of the social media platforms.
Sarantos Mission or Goal:
My goal when you listen to one of my songs is very simple. I want you to feel the need to:
-Sing
-Dance or move to the groove
-Play the song over and over again
Website
Sarantos Facebook artist page:
https://www.facebook.com/Sarantosmelogia
Sarantos Twitter:
http://www.twitter.com/sarantosmelogia
Sarantos Youtube:
http://www.youtube.com/user/SarantosMelogia
Sarantos iTunes: