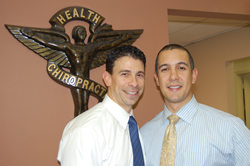 People often feel more relaxed after a chiropractic treatment so we thought it would be fun to treat them to a cup of coffee with a friend! - Dr. Michael Cocilovo
New City, NY (PRWEB) July 15, 2014
New City Chiropractic Center has teamed up with Corner Bakery Cafe in Nanuet to offer patients a free cup of coffee after their chiropractic adjustment. To receive the complimentary cup of java, patients only need to schedule an appointment and bring a friend and both individuals will receive a voucher for a free cup of coffee redeemable at the Corner Bakery Cafe located at the Shops at Nanuet.
"We have found that people feel more relaxed after an adjustment and so we thought it might be fun to have them bring a friend, introduce them to the office and then go enjoy a cup of coffee together," stated Dr. Cocilovo. The promotion will run through July and August or until the coffee coupons run out.
New City Chiropractic Center has been serving the Rockland County area for nearly three decades providing chiropractic care and wellness workshops on topics such as managing stress, reversing diabetes, and back safety. A Certified Sports Team Physician, Dr. Cocilovo is also one of a select group of chiropractors who is certified to perform Manipulation under Anesthesia (MUA). He is a long-time member of the New York State Chiropractic Association and is Past President of the Rockland County Chapter of the American Chiropractic Association. Chiropractic treatments can be helpful to individuals suffering with bursitis, neck pain, carpel tunnel syndrome, shoulder, hip or knee injuries, chronic pain, sports injuries, lower back pain, whiplash, allergies, anxiety, morning stiffness, muscular aches, numbness and tingling, sleeping disorders, digestive disorders, dizziness, fatigue, stress-related symptoms and pregnancy-related symptoms. The office is located at 490 Route 304 in New City and they can be reached by calling 845-634-8877 or info(at)newcitychiropractic(dot)com.
Corner Bakery Cafe is the newest addition to the Shops at Nanuet located at 75 Route 59 in Nanuet. The Cafe in Nanuet features outdoor dining for breakfast, lunch or dinner and is open Monday through Saturday from 6:30am until 10:00pm and from 7am until 8pm on Sundays. Founded on a philosophy of creating a place for people to relax and gather with family and friends, Corner Bakery Cafe features innovative, seasonal menu options while delivering a premier bakery cafe experience in the heart of neighborhoods everywhere. For more information, visit http://www.cornerbakerycafe.com. For more information call 845- 627-0200.