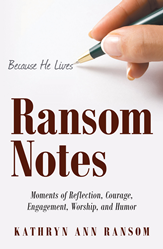 "Kathryn is someone everyone needs as a mentor." – Amazon review
SPRINGFIELD, Ill. (PRWEB) September 09, 2019
As an active leader in her church and community, Christian author Kathryn Ann Ransom utilized her firsthand experiences and invaluable life lessons as they relate to Biblical reflections in her new book "Ransom Notes: Moments of Reflection, Courage, Engagement, Worship, and Humor" which presents her encouraging collection of 101 short devotional and entertaining essays written to help move readers closer to the Lord.
"Ransom Notes," was created from the weekly short devotional and entertaining essays Ransom has written over the past eight years for a class of adults she teaches as well as with friends throughout the world. She feels the Lord directed her to take a leap of faith and present them to the public. Ransom's relatable testimonials help to prove it is possible to give your best to God no matter at what stage in life and encourages readers to grow in their understanding and appreciation for Christian living as well as in their relationship with God.
"We each are human, making giant goofs in our lives, but still must witness and share our faith in God," said Ransom.
"Kathryn is someone everyone needs as a mentor." – Amazon review
Ransom enjoys encouraging others and helping each person to be drawn closer to the Lord while also sharing their talents and witness with others and through "Ransom Notes," readers will be able to pause, reflect, smile and review their own life.
"Ransom Notes: Moments of Reflection, Courage, Engagement, Worship, and Humor"
By Kathryn Ann Ransom
ISBN: 978-1-9736-5597-8 (sc); 978-1-9736-5598-5 (hc); 978-1-9736-5596-1 (e)
Available through WestBow Press, Amazon and Barnes & Noble
About the author
Kathryn Ann Ransom graduated from Southwest Missouri State and the University of Illinois in Champagne. She began her role in the world of education by teaching in a fourth-grade inner city classroom, followed by becoming a consultant for a major publisher, and then the coordinator of the reading and English program for Springfield Public Schools. She also served on the board of the International Reading Association, including the role of president. Ransom currently resides in Springfield, Illinois where she serves as a trustee of the Illinois Symphony Orchestra, the local public television station WSEC, and a former board member at Lincoln Christian University as well as a Christian leader in her community. To learn more please visit http://www.kathrynransom.com.
For Interviews & Review Copies:
LAVIDGE
Lauren Dickerson
ldickerson@lavidge.com
480-998-2600x601