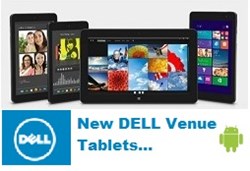 New Dell Venue Tablets offer greater versatility and higher performance at a lower price.
(PRWEB) October 21, 2013
Dell has just introduced a whole array of new Venue 7, 8 and 11 quad-core devices onto the somewhat crowded tablet marketplace. These new versatile and more powerful tablets feature either Windows 8.1 or Google Android operating systems and have Full HD touch displays. The starting price is an affordable $149 for the entry level Venue 7 and Venue 8. The higher priced Venue 8 Pro will start at around $300.
These new Dell Tablets have just been featured on Bizwaremagic.com, an eBusiness site which offers a helpful online Laptop and Computer Buyer's Guide. This handy guide often features electronic products, especially those well suited for the business workplace. The site also lists the latest laptop coupons from major manufacturer/retailers such as HP, Sony, Alienware, Toshiba... and Dell.
The new Venue Tablets do offer some attractive features such as the HD wide-angle (WXGA 1280 x 800 with 189 pixels per inch) displays, mobile broadband and dual cameras - 1.2MP HD Webcam in the front and 5MP in the back (higher resolution cameras on the Pro level tablets).
Sporting the powerful Quad-Core Intel Atom Z3740D "Bay Trail" processor (2MB Cache, up to 1.8GHz), Intel HD Graphics and 2GB of single channel DDR3L-RS 1600MHz RAM. Flash Storage is 16GB or 32GB, unless you opt for the 64GB version which will cost you $50 extra. Free shipping is also offered, but please see the official Dell Site for all prices, shipping dates, terms and conditions.
A few of these new tablets offer optional accessories such as a wireless keyboard and Dell Active Stylus. The more powerful Venue 11 Pro (up to Core i5 Intel processors) will basically give you three devices in one machine - the portability/mobility of a tablet, the power of an Ultrabook and the experience of a desktop with the optional keyboard and dock. The Venue 11 Pro will have a full HD 1920 x 1080 display, up to 64GB storage and 2MP/8MP dual cameras. Dell will start shipping these in November.
Since Apple introduced the very popular iPad gadgets some years ago, the tablet market has become very crowded. The jury is still out on whether or not these new cheaper and more powerful Dell Venue Tablets will win favor with picky consumers. HP tried to enter this market with its own webOS operated TouchPad and is still recovering from the fallout. Will the same faith await Dell and these new Venue "Bay Trail" Tablets or will they give the iPad some much needed competition?
To discover more about the New Dell Venue Tablets go here: http://www.bizwaremagic.com/dell_venue_tablets.htm or download our comprehensive laptop buying guide here: http://www.laptopcomputerguide.org All products/companies mentioned above are registered trademarks of their respective owners and companies.