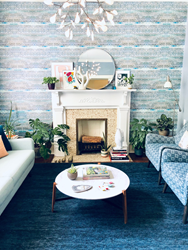 The Union offers digital files of modern art for the approachable price of $12.
NEW YORK (PRWEB) September 23, 2019
The Union, a new digital art company by innovative artist and entrepreneur Colleen Williamson, will launch this month featuring $12 art downloads, with $2 going to various charities. Williamson, who founded celebrated online art store Kisco Print Shop in 2014, created The Union to make art even more affordable and accessible to everyone. Shoppers simply purchase and download the art file and can print and frame it in any way that suits their personal style and budget. Each print will have a limited download run of 150, keeping them exclusive and special.
"My goal in creating The Union was to help unite art with those who love it, without the large investment or being bound to printing or framing boundaries that other online art stores require," said Williamson. "It's art YOUR way - whether to keep as a family heirloom or just for a quick fix to an empty space. I believe art should evolve with your changing design or tastes. I hope more people will feel that they can incorporate great art and design into their lives, without intimidation."
With The Union, Williamson has partnered with several creatives in the fashion, interior design and business world to curate a collection of five prints that they personally choose. These collections include those from Rebecca Minkoff of Rebecca Minkoff, Dara Deshe Segal of Simply Framed, Gina Gutierrez of Gina Rachelle Design, Batya Stepelman of Walltawk, Julie Lodhy of Madewell and Katya Libin of HeyMama. When a print sells from their collection, $2 will go to the charity of their choice that is listed.
Additionally, for all other art sold on The Union, $2 will go to the ALS Therapy Development Institute in Cambridge, MA - a cause important to Williamson in honor of her father's recent diagnosis with ALS.
For more information, please visit theunionart.com.
About Artist & Entrepreneur Colleen Williamson
Artist and entrepreneur, Colleen Williamson started Kisco Print Shop in 2014 and The Union in 2019. Her self-made brand includes art prints that are bright, vibrant and modern. A former marketing executive without any formal training, Williamson has forged her own signature style in combining bold colors, patterns and shapes to create unique pieces of art. Pieces from Kisco Print Shop, which sells prints as well as framing, have been sought out by interior designers across the country, and are known for their versatility and beauty while being an affordable investment for many. Williamson's artwork has been featured on the Bravo television network, Domino, Redbook and Cosmopolitan among others.