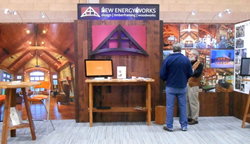 These presentations offer an opportunity to learn about the benefits of timber frame construction
Farmington, New York (PRWEB) December 31, 2014
New Energy Works Timberframers will be presenting "A fun-filled odyssey: Realizing your timber frame dream" at the Log & Timber Home Shows and the Lake Cottage Home Show in the beginning of 2015.
"These presentations offer an opportunity to learn about the benefits of timber frame construction over traditional stick-built homes. Folks are always surprised to find out how design flexible and environmentally responsible timber framing is," explains Jonathan Orpin, President and Owner of New Energy Works.
The Log & Timber Home Show series is presented by Home Buyer Publication's Timber Home Living magazine, the leading written educator in timber framing. New Energy Works will be exhibiting at the 2015 Spring Log & Timber shows in:

Nashville, TN: January 9 - 11
Atlanta, GA: January 30 - 31
Indianapolis, IN: March 20 - 22
Minneapolis, MN: March 27 – 29
Novi, MI: April 17 - 19
The seminars will detail advantages of reclaimed wood products, including timbers, explore the differences in log homes and timber homes, walk through the process of designing and building, explain and explore joinery, and much more.
In addition, New Energy Works will be exhibiting at The Lake Home & Cabin Show in Madison, WI, which will take place Jan 23 – 25 at the Alliant Energy Center. This show specializes in vacation homes and the second home lifestyle with interior décor, remodeling, outdoor sporting gear, and custom products.
Home Buyer Publication explains their shows are often called, "Magazines Brought To Life. They are large, lively events occasionally featuring life-sized Log and Timber Frame structures. Our exhibitors take pride in showcasing their unique, rustic furnishings, and one-of-a-kind décor. In addition, Shows provide guests with free, hourly workshop presentations and educational demonstration areas. This is the place to see, feel and smell the wood." There are a number of Log & Timber Show tickets available from New Energy Works. Contact them directly for information and details.
New Energy Works Timberframers have been designing and building environmentally responsible timber frames across the USA for nearly 30 years from their facilities in New York and Oregon. Offerings include: Timber Framing (design, engineering, manufacturing, build), Enclosure Systems, Fine Woodworking, Recycled and Sustainable wood products. New Energy Works has LEED AP staff members, is a member of the US Green Building Council and is FSC Certified.