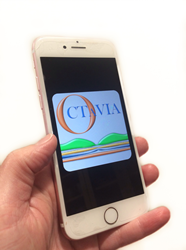 There is an urgent need in education and clinical practice for a dedicated smartphone/tablet app that can present a well-annotated OCT images for multiple diseases in a fast, clear and easy manner. OCTaVIA is this app!
BOSTON (PRWEB) April 10, 2019
OCTaVIA, a visual reference OCT app, is now available free to eye care professionals and optometry/ophthalmology students of all levels on the Apple App Store. The iOS Optical Coherence Tomography (OCT) app was developed by Dr. Elena Z Biffi, Assistant Professor, New England College of Optometry (NECO) and attending optometrist at South Boston Community Health Center to assist in the diagnosis and management of retinal disorders in their daily practice. Dr. Biffi notes, "There is an urgent need in education and clinical practice for a dedicated smartphone/tablet app that can present a well-annotated OCT images for multiple diseases in a fast, clear and easy manner. OCTaVIA is this app!"
OCT (Optical Coherence Tomography) is a non-invasive image test that allows eye care professionals to take cross-section pictures of the retina using light waves. Optometrists and ophthalmologists use these images to measure the thickness of the retina and diagnose conditions such as age-related macular degeneration (AMD), diabetic eye disease, and glaucoma.
While often extremely valuable in clinical practice, OCT imaging requires training and expertise in order to benefit its diagnostic effectiveness and efficiency. Pathognomonic imaging patterns and findings must be recognized and placed in the correct clinical context in order to arrive at a diagnostic conclusion.
The OCTaVIA app provides eye care professionals withnormal OCT reference material and corresponding OCT with Fundus Photography images for multiple retinal disease conditions, as well as abrief disease-specific description of OCT images, high-yield key considerations and useful links to aid in the differential diagnosis.The intuitive search function provides access to dozens of retinal disease, allowing for easy and rapid access for students and doctors in busy clinical and teaching settings. Cases are presented in alphabetical order for easy offline access. Within the app, users can find detailed normal images with reference to normal OCT layer-by-layer descriptions and nomenclature for retinal location and retinal OCT layer abnormalities. "The information is right at our finger tips with the reliable OCTaVIA app!" notes Amy Moy, OD, FAAO, Director of Optometry, Boston Children's Hospital at Martha Eliot.
Heta Patel, NECO Class of 2019, began using the app during her studies. She says, "OCTaVIA is a great resource to help narrow down your differential diagnoses. All scans are clearly labeled which really helps when comparing to your own patient's scans." Assistant Professor, NECO, Jennifer Reilly, OD, MS, FAAO, agrees, "The OCTaVIA app is not just a great teaching tool for optometrists who work with students, but also an excellent image atlas for any eye care provider who works with an OCT. I used to spend time searching for OCT images on the internet to show students the structural changes I would expect to see with certain ocular conditions; now it is much faster to pull out my phone and show them using the app. Or better yet, have the students download and reference the app themselves!"
"OCTaVIA is my go to resource for OCT interpretation," notes Adam Grimm, OD, E-Vision Eye Care. "It has an excellent library of diseases and great images. Not only does it provide high quality OCT images, but it also has fundus photographs of the same patients. This is extremely helpful in seeing the correlation between funduscopic appearance and the OCT scan. I highly recommend this app as another valuable clinical resource at our disposal."
The app was developed with financial support from the American Optometric Foundation and Johnson & Johnson Innovation in Education Grant. OCTaVIA is currently available for free on the Apple App Store for iPhone and iPad users.
ABOUT NEW ENGLAND COLLEGE OF OPTOMETRY
New England College of Optometry, NECO, is an independent graduate college of optometry that educates students for careers in eye care delivery, research, and education. NECO currently enrolls over 500 students in its four-year Doctor of Optometry, Accelerated Optometric Degree Program, international, and graduate programs. The College was founded in 1894 by August Klein as the Klein School of Optics. Over the past 125 years, more than 7,000 dedicated students, innovators, and thinkers have attended what is now called New England College of Optometry. Collectively, they have provided excellent patient care to tens of thousands of individuals in New England, across the country, and throughout the world. Our graduates have become leaders, innovators, investigators, educators, practitioners, and advocates for the profession.