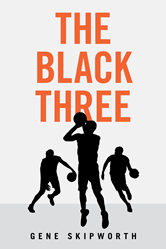 "I introduce each of the players on the team in a special way." said Skipworth. "I try to capture the hatred and violence when prejudice rears its ugly head. Then I seek to portray the reconciliation and harmony that is realized when grace is expressed by unexpected persons."
CROSSVILLE, Tenn. (PRWEB) January 10, 2023
Prior to the mid-sixties, twenty-four towns in Tennessee were called "sundown towns." The towns prohibited African Americans inside the city limits after sundown. In "The Black Three," by Gene Skipworth, the fictional town of Grayville, Tenn. is one of these towns.
Grayville High School seldom had any black students and never a black basketball player. In "The Black Three," a black doctor has moved to Grayville to be closer to his adoptive parents at a nearby retirement home. His three sons, Joseph, and twin brothers Samuel and David all make the team and learn to deal with their classmates, youths who have grown up with a "culturally-absorbed prejudice." But when they helped lead the team to a winning season, they ended up changing the views of many people in the community."
"I introduce each of the players on the team in a special way." said Skipworth. "I try to capture the hatred and violence when prejudice rears its ugly head. Then I seek to portray the reconciliation and harmony that is realized when grace is expressed by unexpected persons."
Skipworth has previously written two other non-fiction books. For seven years, he wrote a column in the religion section of three different newspapers. The articles were of a progressive theology and liberal position and did not go over well in the conservative evangelical area. "Bullied in the Bible-belt," includes the letters to the editor, rebuttals, emails, and over 150 articles.
From 1969-1973, Dr. Skipworth served the Northside United Methodist Church where he became involved with outlaw motorcycle gangs. "Wear Your Collar" shares his story about how the gangs tolerated and respected him, because even though they beat him, it never deterred him.
His latest work shares influence from his life growing up in a predominately white, small town in southern Illinois. "I grew up with mixed-race working class, parents on the wrong side of the tracks and faced prejudicial verbiage from the community. I was able to draw from those personal experiences to hep craft "The Black Three."
"The Black Three"
By Gene Skipworth
ISBN: 9781665551588 (softcover); 9781665551571 (hardcover); 9781665551564 (electronic)
Available at AuthorHouse, Amazon and Barnes & Noble
About the author
The Rev. Dr. Gene Skipworth was raised in Ill. and received a BS from the University of Illinois, a Systematic Theological Masters from United Theological Seminary in Dayton, Ohio, and a Doctor of Ministry from United Theological Seminary. He is currently a retired United Methodist pastor living in Fairfield Glade, Tenn. in what is often called "The Bible Belt." To learn more, please visit http://www.geneskipworth.com.