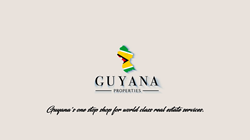 "You can rely on GP for all your real estate needs." - Shivnarine Chanderpaul, CMO & Guyana Properties Principal
WEST PALM BEACH, Fla. (PRWEB) June 17, 2021
Something exciting is happening in Guyana. Recent oil discoveries, a robust natural resources sector that includes gold, bauxite and more and the fact that Guyana is an English-speaking ecotourism paradise with Caribbean style hospitality, makes it an amazing country not to be overlooked. The opportunity for a low cost of living paired with an organic and a low carbon footprint lifestyle and more...makes this an opportune time for real estate investors, Guyanese expats, and retirees over the world to take a closer look at the country that has been dubbed the future Dubai of the Western Hemisphere.
Guyana Properties (GP) is a new and exciting company recently launched by a very successful group of international business leaders. GP's CEO, Chris Thakoorpersad, a successful entrepreneur with multiple businesses and decades of real estate experience in both the United States and Guyana shared his thoughts. "Being an expat and having been involved in real estate in North America, I see a need for me to transfer my knowledge to Guyana." He later added, "I see a tremendous need for real estate services in Guyana."
Clearly, GP will be a heavyweight in the real estate industry in Guyana from day one. Their plan to hire over a hundred local talented Guyanese, to train as GP Professionals, in year one alone is a clear indication of their intent to transform how real estate professionals do business in Guyana. GP's President, Myrna Nieves, a successful US-based business leader with decades of experience in the financial services and real estate industry shared- "presently GP is in the middle of our soft launch in Guyana meaning only four of our eventual dozen-plus service offerings are available. Our grand opening is scheduled for fourth-quarter 2021 and we are excited to offer a full range of services to Guyanese and individuals interested in real estate in Guyana."
GP's CTO, Paul "PR" Ramkissoon, invited the public to browse GP's impressive website for the details on the four services now available:

Owner Representation
Transport/ Title/ Deed Services
Property Appraisal & Valuation
Large Scale Real Estate Development Marketing
PR, as he is called, reiterated that this is only the initial version of the website. He suggested that future versions will feature all the services and encouraged visitors to check back regularly for updates as the site is designed to become a central repository for "all Guyana real estate news." He also hinted at a future version that will include the ability for visitors to see property listings available for sale/ rent, list properties they own, and more. He added, "the technology that will be deployed to Guyana, while on par with best practices in North America, will be a dramatic improvement on what is currently available to Guyanese as well as overseas folks interested in Guyana real estate."
While their tagline 'Guyana's one-stop-shop for World Class Real Estate Services' says it all, here's what the most well-known of the GP Partners, Guyana's own native son and West Indies cricket legend, Shivnarine Chanderpaul, had to say about the venture. "Everyday things that are taken for granted in first world countries are missing in Guyana. I want my business, GP, to be all about providing that world class level of real estate service to each and every Guyanese." He added, "You can rely on GP for all your real estate needs," and later poetically quibbed, "Guyana Properties, we are here to change the game!"
Guyana Properties also announced that they will be working with the highly reputed and prominent law firm, Gunraj and Company for all their legal compliance matters. Sase Gunraj, the firm's managing partner added, "from what I've seen so far in my dealings with the four partners of GP, their approach and entry into the Guyana marketplace, will be unlike anything Guyana has seen before in the real estate industry." He added that "I have no doubt that they will be of great service to everyone in Guyana, and the wider diaspora. Also, what is most refreshing for me is that they seem keen to represent the private sector in assisting the public sector in the enacting positive change in Guyana's real estate laws, for the benefit of all."
This announcement of the formation of the powerhouse real estate firm Guyana Properties, is yet another indication that now is indeed the time to get in on the ground floor if you are interested in real estate in Guyana.